2015 
 
WBro Geoff Burgoin after finishing Santa Run in Burghley Park. A big Thank You to all those who sponsored me for the festival.
---
Sunday 20th December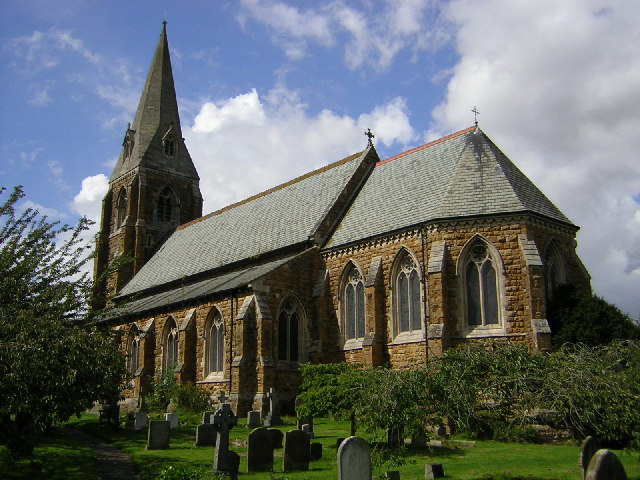 PGM Rt W Bro Rev Trevor Walker hosted his annual 
  Christmas Service at
 Binbrook Parish Church 
 SUNDAY 20th DECEMBER
at 6pm
It was a nice way to start the Christmas Festivities and a lovely atmosphere was enjoyed by all who attended. The usual mince pies and wine were avaialable afterwards. A nearly full church made it an extra special evening. 
If you missed out this year, do come along in 2016, and get into the Christmas spirit and start the Festivities early!
---

---
Royal Ark Mariners Grand Assembly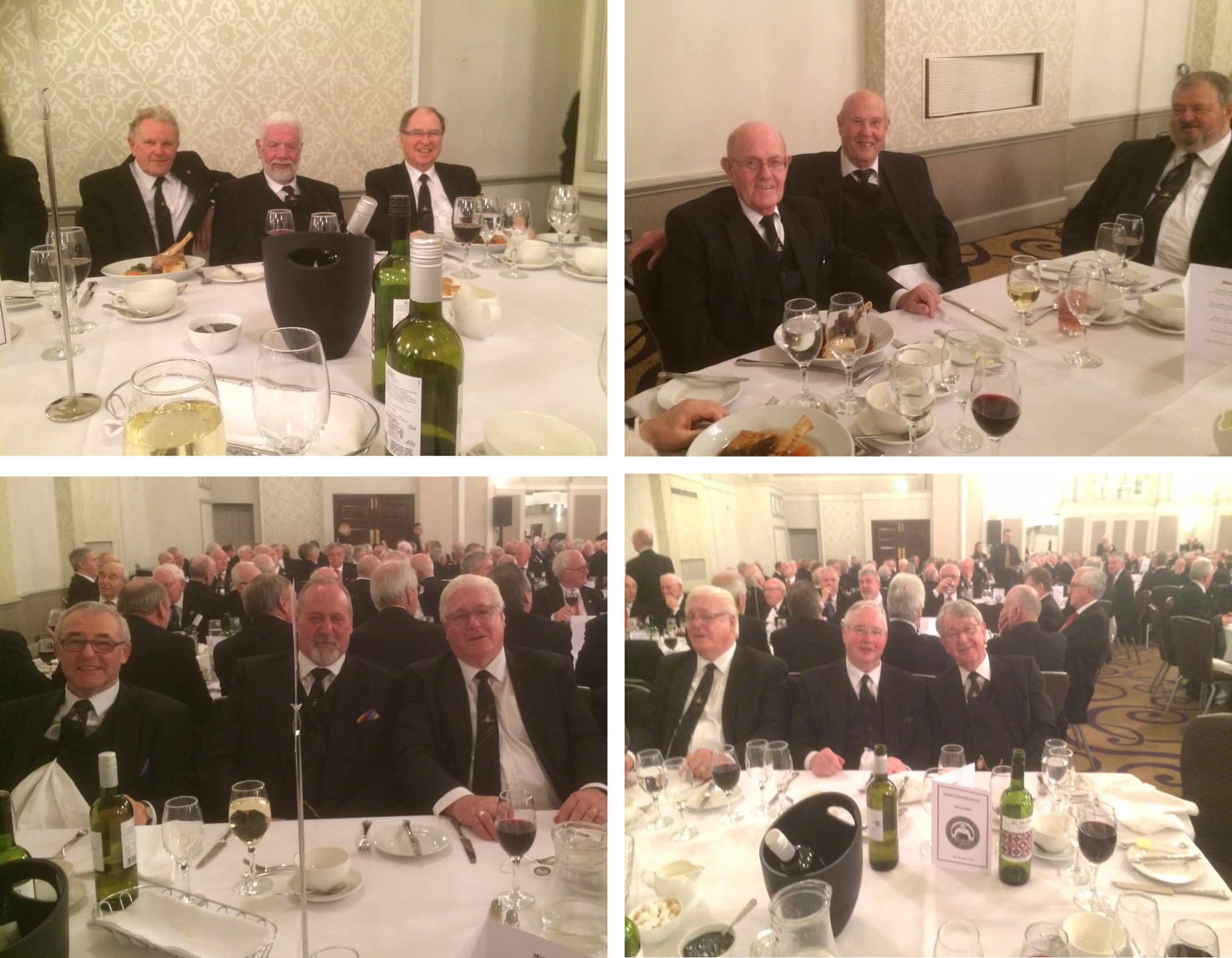 Some of the Lincolnshire lads enjoying themselves at the festive board in the Connaught Rooms after the meeting where W Bros Jack Geelhoed, Reg Brittan, David Southwood & Peter Hooper received RAMGR. Our congratulations to them all.
---

---
125th anniversary of the Lodge coupled with the presentation of a 50th year certificate
On Thursday the 26th November at Sleaford, the Nene Lodge MMM met for what was designated a regular meeting but was actually a very special night.
55 brethren gathered to celebrate the 125th anniversary of the Lodge coupled with the presentation of a 50th year certificate to W Bro John Rodgers PGSD.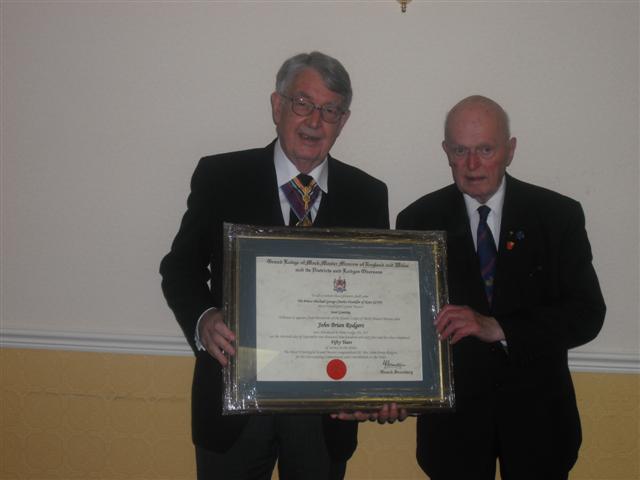 Left: DPGM and W Bro John Rodgers, PGSD, with his 50th year certificate which was presented by the DPGM at the meeting
Add to that the advancement of Bro Dan Stansfield and a visit by the Provincial team and it was undoubtedly, a night to remember for all.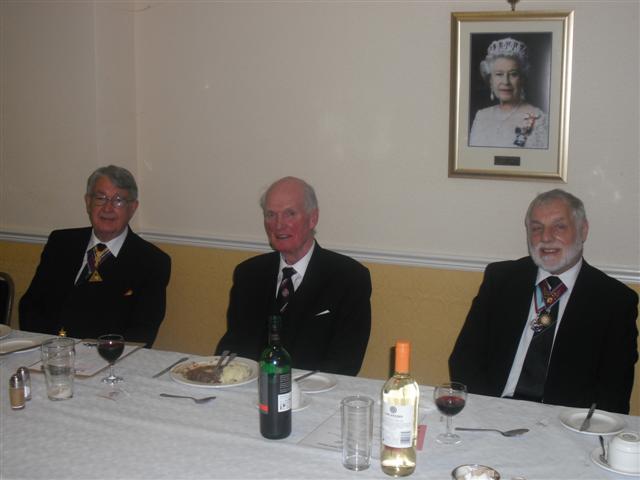 Right: V W Bro John Boad (DPGM) / Bro Dan Stansfield (candidate) / W Bro Alan Mawer (WM)
The DPGM was kept busy throughout the evening by presenting a 50th year certificate to W Bro Rodgers and also a certificate of advancement to Bro Roly Freeman.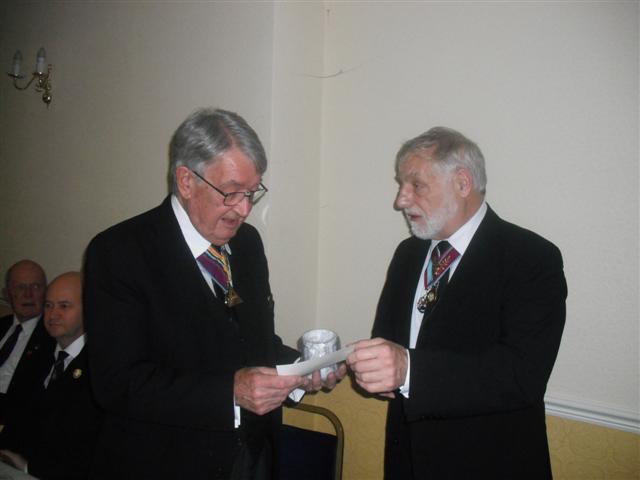 Left: DPGM receiving a commemorative mug & a cheque for £1000 for the  2018 festival from the WM
The festive board proved to be just as enjoyable and in addition to each brother receiving a commemorative mug, W Bro Alan Mawer, the WM of the Lodge presented a charity cheque for £1000 to the DPGM for the 2018 Festival.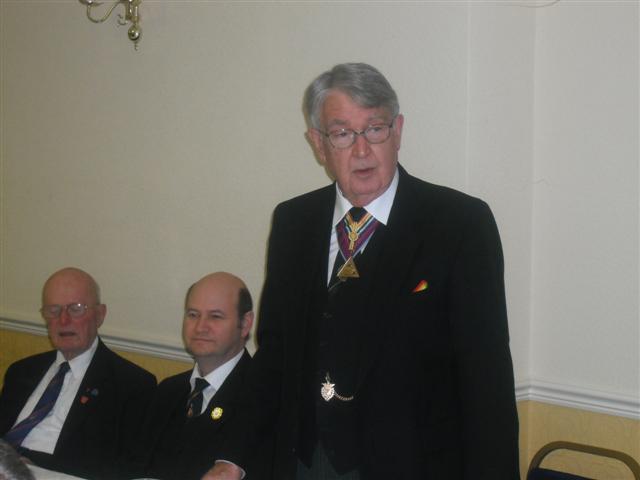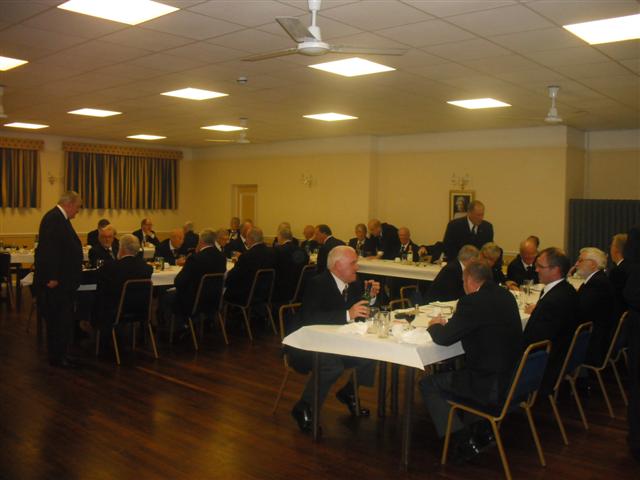 DPGM addressing the brethren at the festive board
Anexcellent meeting, a good festive board and superb company - quite simply Mark Masonry at it's best.
---
 SUCCESSFUL SWINGTIME EVENT AT SLEAFORD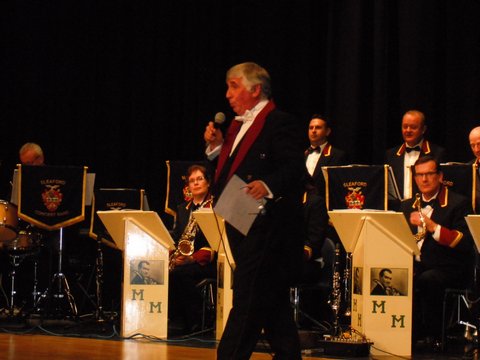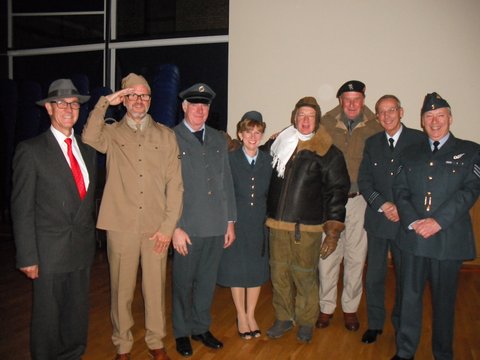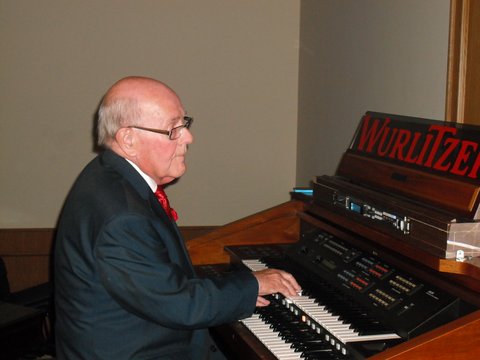 On Saturday 26th September over 100 Mark Masons, their families and friends attended the Swing Time event held at St. George's Academy, Sleaford.
The evening had been organised by Malcolm Forrest and Mike Lock and featured the 'Miller Magic' of the Sleaford Town Band. Many of the guests had g
An excellent two-course buffet was provided and also a cocktail bar serving a wide range of exotic cocktails! The band played two long sessions and were excellent throughout the evening with many people dancing the night away.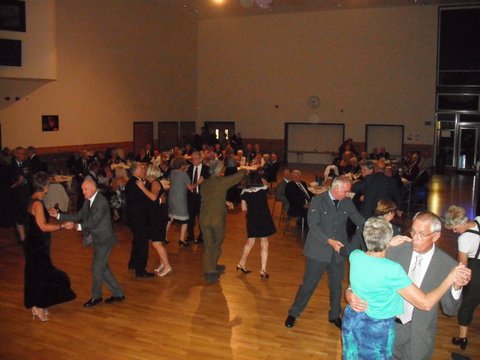 During the interval, Malcolm Forrest kept everyone entertained with his skills on the Wurlitzer organ which, as always, was very well received.ot in to the spirit of the '1940's' theme and dressed up in a variety of styles ranging from military uniforms to de-mob suits and this added to the atmosphere of the evening.
The final sums have not yet been completed but it is hoped that the evening, as well as being great fun, will have made a substantial contribution to the 2018 Mark Benevolent Fund Festival.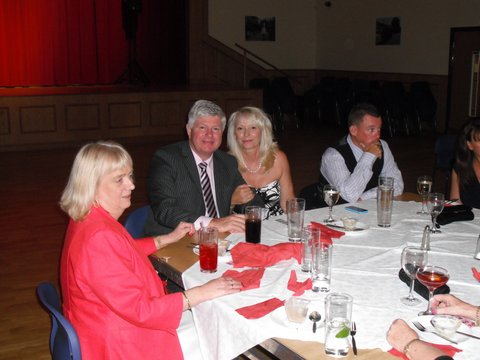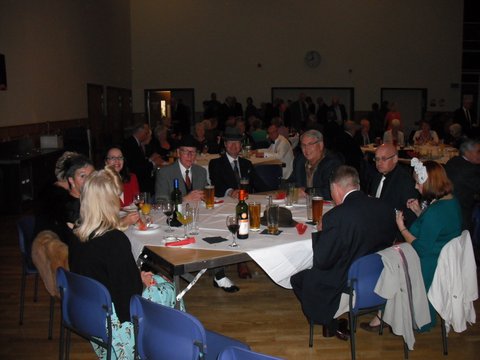 ---
Peter Dolby Completes Indoor Rowing Challenge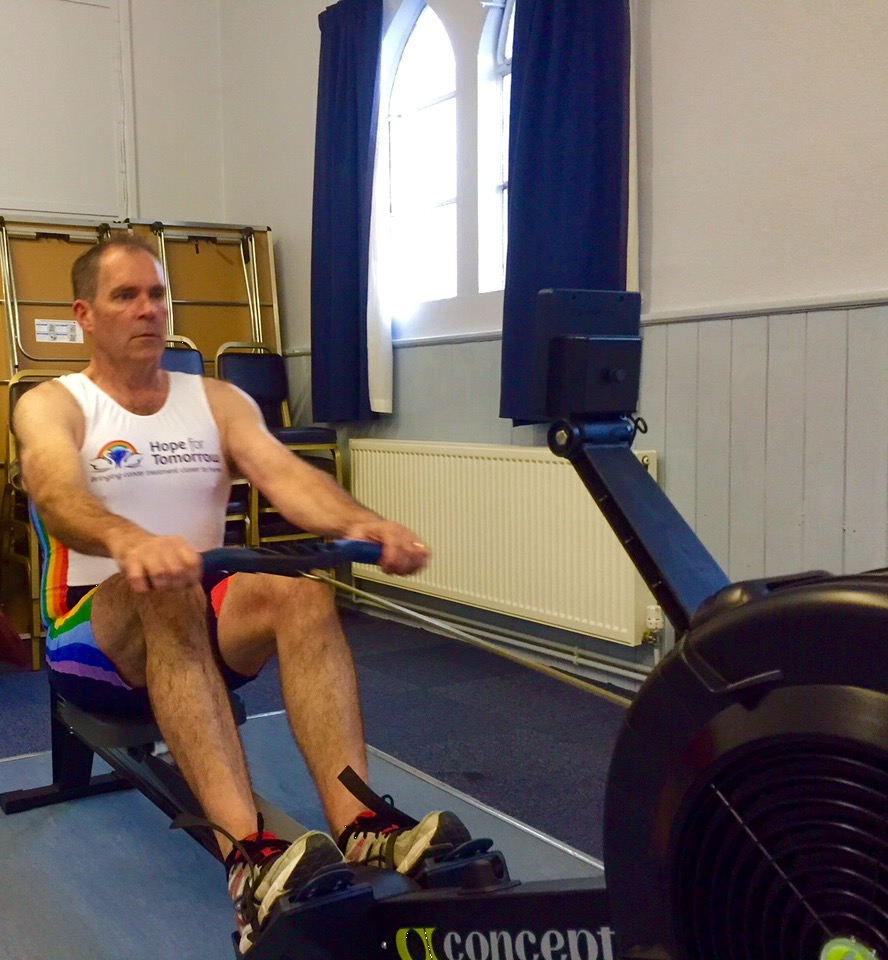 The Indoor Rowing Challenge took place at The Masonic Hall Deeping StJames on Saturday 17th October, the 113 Kilometres, representing the distance between Lincolnshire's Southernmost and Northernmost Masonic Centres, and 13 kilometres further than Indoor Rowings ultramarathon. It was completed in a time of 10hours and 38minutes, A total of 59mins and 6secs were taken for fluid and comfort breaks, the actual rowing time was 9hours 38minutes 54 seconds. And for the the sad ones amongst us that's an average split of 2:33.6 per 500m.
Peter said, "
Now the important bit, thanks to all who have sponsored and donated, including the online donations via MyDonate and a few people who were out shopping on the day and called in to see what was going on as well as have tea and a cake, the money raised for the Mark Benevolent fund so far is approaching £500 without the gift aid applied.
This is wonderful and I thank all who have helped.
The photo above shows me looking unbelievably at the machines display, I am sure that I was working harder than it said".
---
HOPE FOR TOMORROW VEHICLE IN LINCOLN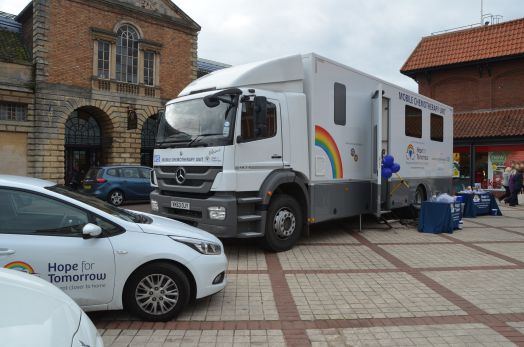 Hope for Tomorrow, the charity being supported by the Masonic Benevolent Fund, brought the Lincolnshire Mobile Chemotherapy Unit, into City Square, Lincoln on Tuesday 13th October as part of their 'Chemotherapy in the Community' week.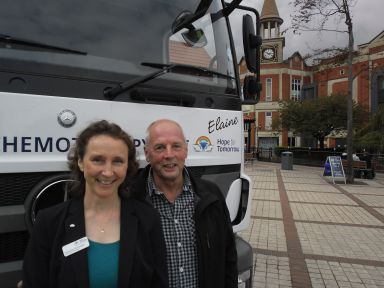 Dave Wheeler, the chair of the 2018 Festival Committee was invited to attend by the charity. Community Fundraiser, Clemmie Rubenstein is pictured at the front of the Lincolnshire MCU, 'Elaine', with W. Brother Phil Anyan. The MCU is named in honour of Elaine who, very sadly, lost her battle with cancer. Phil is also pictured near to the entrance of the MCU with one of the patients currently receiving treatment on the MCU. The personal testimonials from patients who have received treatment in the MCU were truly heartwarming and they all followed a similar theme in that they had had horrendous journeys to receive chemotherapy at hospital oncology units before the MCU was available.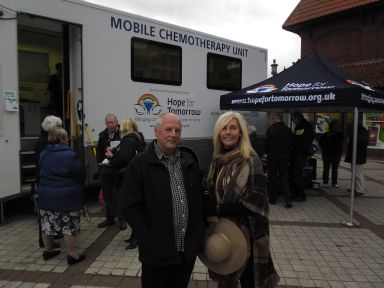 They now can have this treatment very locally which helps them tremendously in their treatment and well-being. One patient said that travelling to Lincoln for treatment had not only taken most of the day but the journey home, feeling very ill, had been most difficult. They now receive their treatment at the MCU when it is at Grantham which is a five-minute walk from their home or, in their case, a one-minute cycle ride. In the future, the MCU will travel to Louth, Skegness, Lincoln, Boston and Grantham to continue with this tremendous work.
---
HAVEN LODGE MMM presents cheque to R W Bro Trevor Walker
Bro Gareth Cookson was the latest brother to be advanced into the Haven Lodge MMM on Friday 2nd October, in a ceremony that he is likely to remember for some to to come.
Everyone in attendance witnessed an excellent cermony and after the meeting, W.Bro Boulton, Master of the Haven Lodge MMM was pleased to present a cheque for £1000 for the MBF Festival 2018, to the Right Worshipful Provinical Grand Master.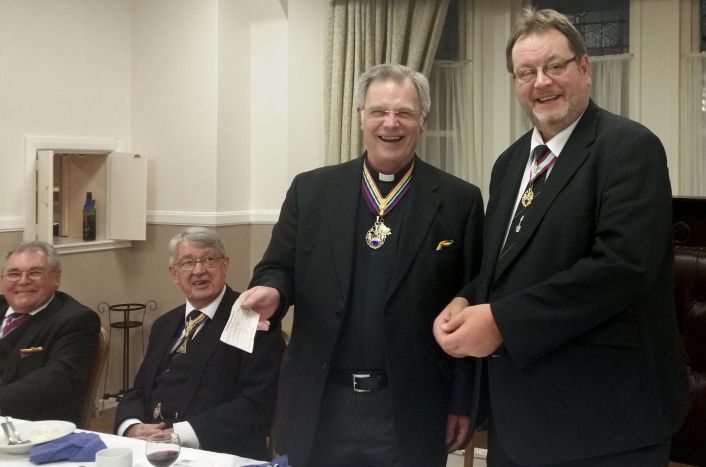 ---
CHEQUE PRESENTATION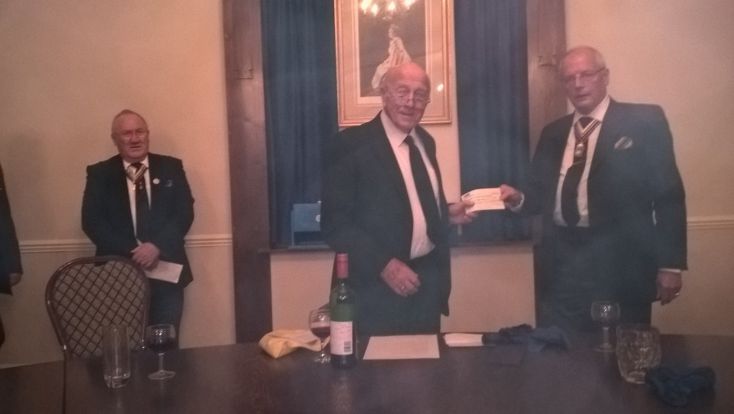 W.Bro. Phil Anyan presenting W.Bro. J. B. Bennett, master of ALEXANDRA Lodge with a cheque for £2,928.00 for the Festival making a total donated to date to £13,720.00. In the background W.Bro. D. S. Bontoft, Assistant Provincial Grand Master. The winners of the Draw were £300.00 Bro. Shaun Dickson of Alexandra Lodge, £200.00 W. Bro. Mike Robinson of St. Swithun's Lodge, and £100.00 W. Bro. Leslie Hamp of Nene Lodge.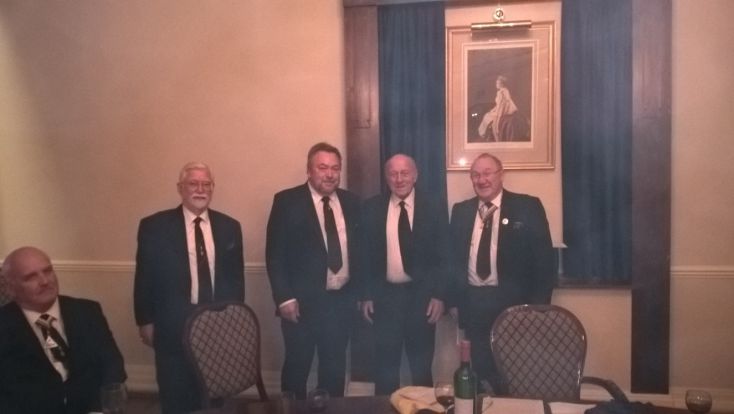 L. to Rt. W. Bro Tim Bird Ass. Prov. D. C., W. Bro. Mike Robinson, Bro. Shaun Dickson, W. Bro Bennett, W. Bro. Derek Bontoft.
---
BRO. FRANK & JULIA POWELL'S MBF BARBEQUE 23 AUGUST 2015
On the 23 August 2015 Bro. Frank & Julia Powell from the John 'O Gaunt Lodge, Gainsborough invited brethren to attend their MBF Sunday Family Barbeque at their house The Old Schoolhouse in Lea, Gainsborough.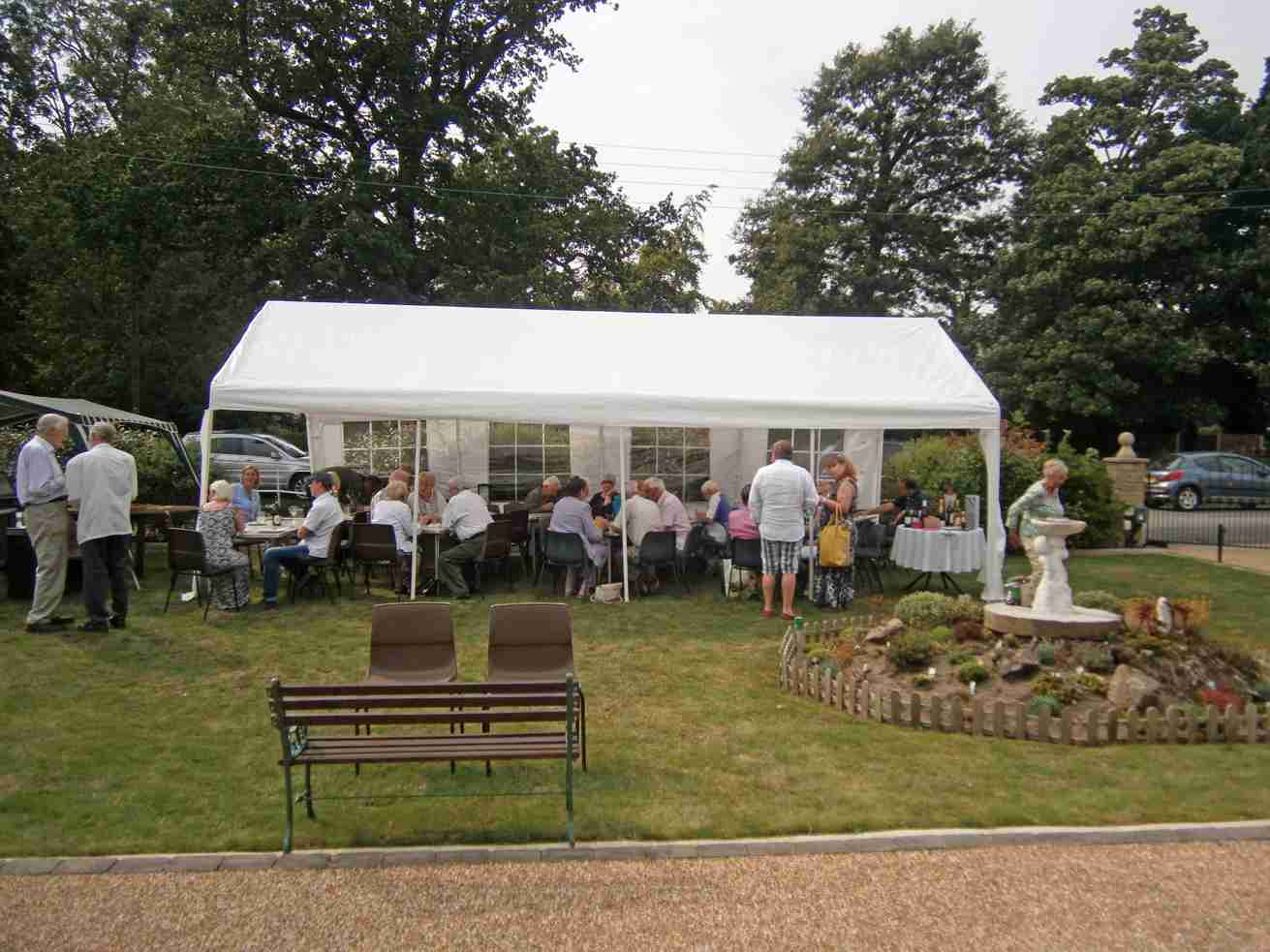 Frank & Julia were joined by 39 guests which included brethren and their ladies/partners from numerous lodges, including John O' Gaunt, St. Swithuns, St. Oswald's, Yarborough and other lodges, plus family friends.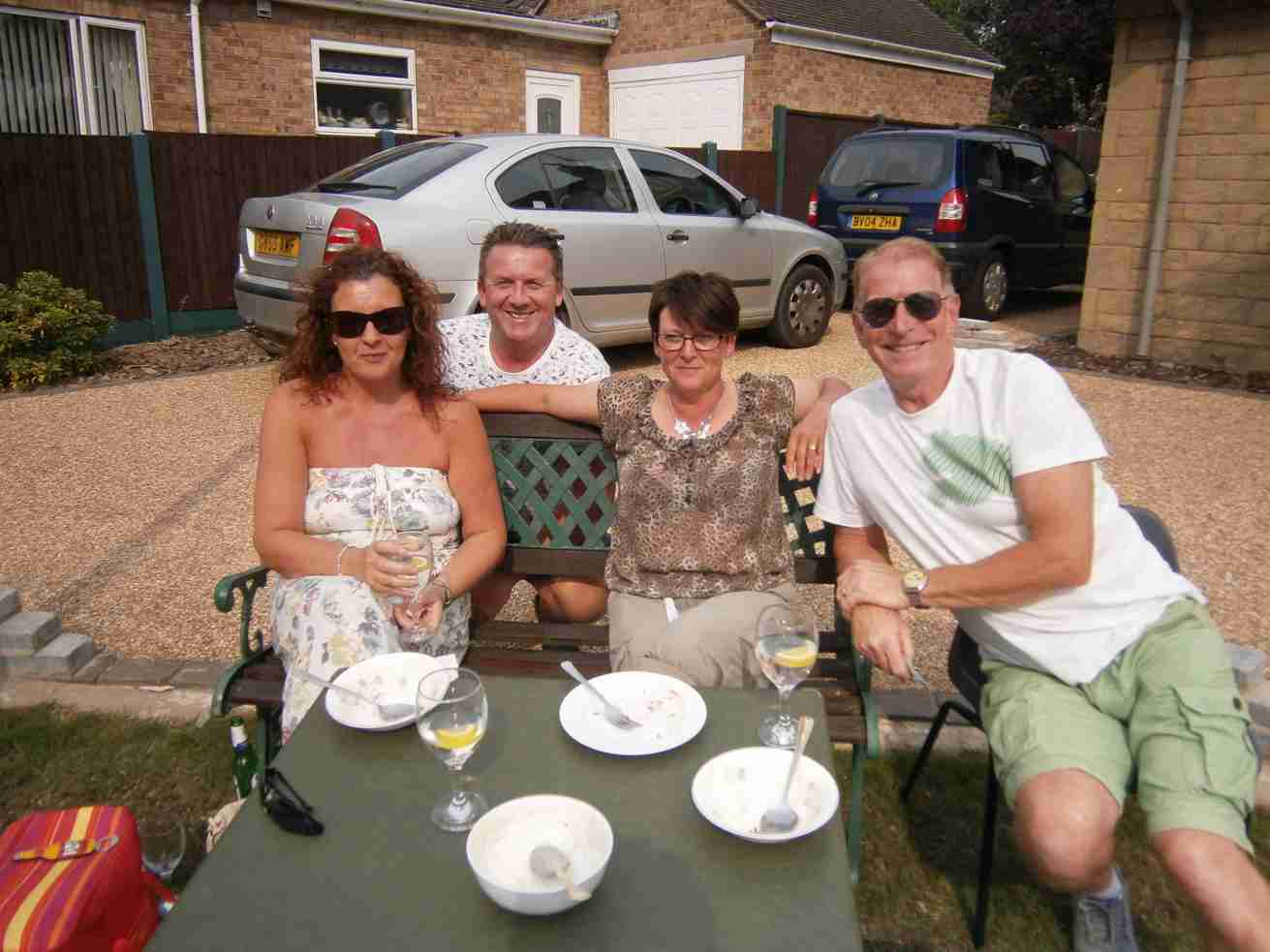 Frank & Julia were supported by their two daughters Dawn and Karen and son-in-law Trevor and their two grandchildren Chloe and Jessica without whose help the day would not have been such a success.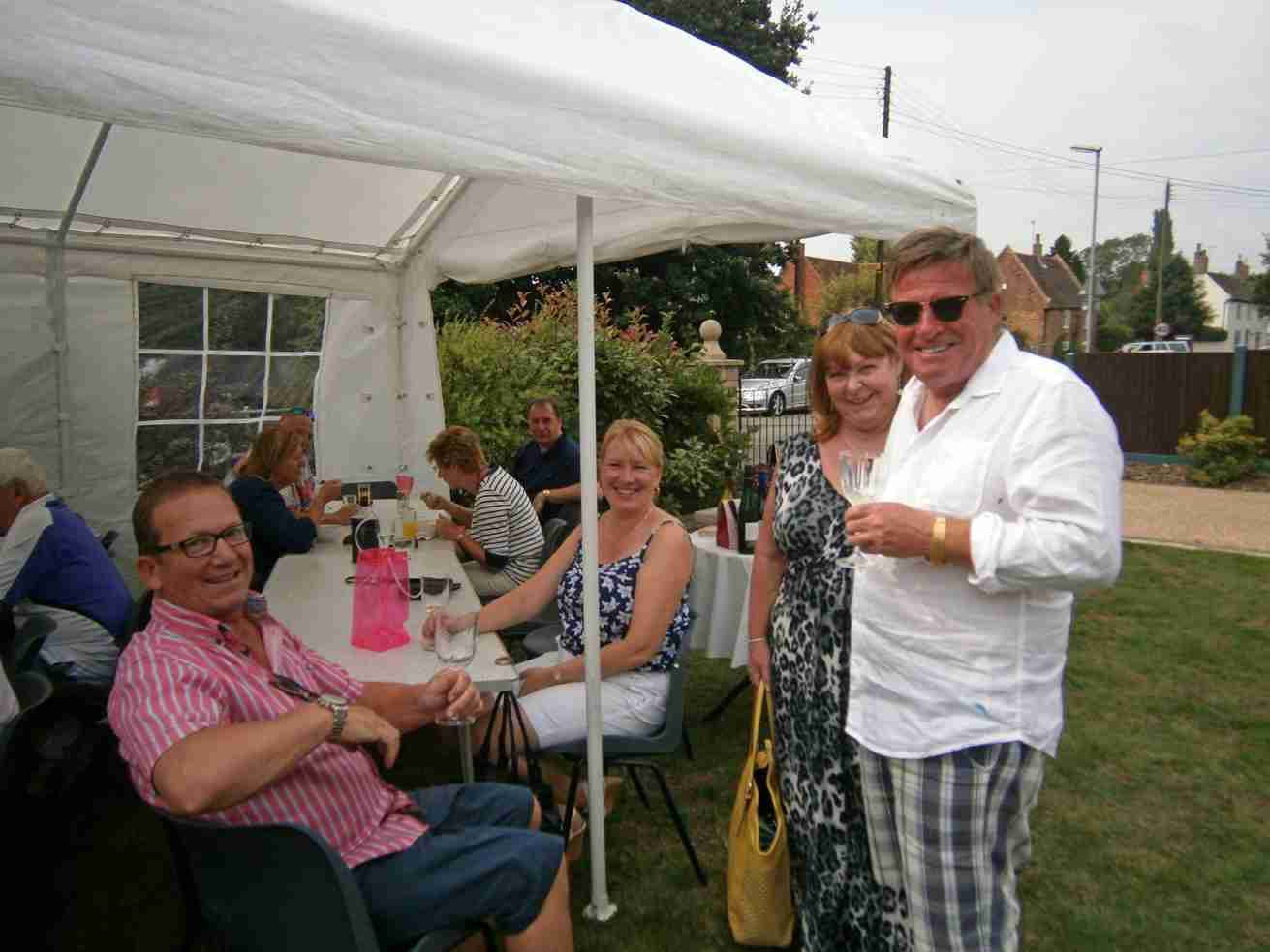 A full buffet menu was provided which included barbequed Roast Beef and Pork with roast potatoes and a selection of vegetables. For the vegetarians fresh salmon with a choice of various salads was available.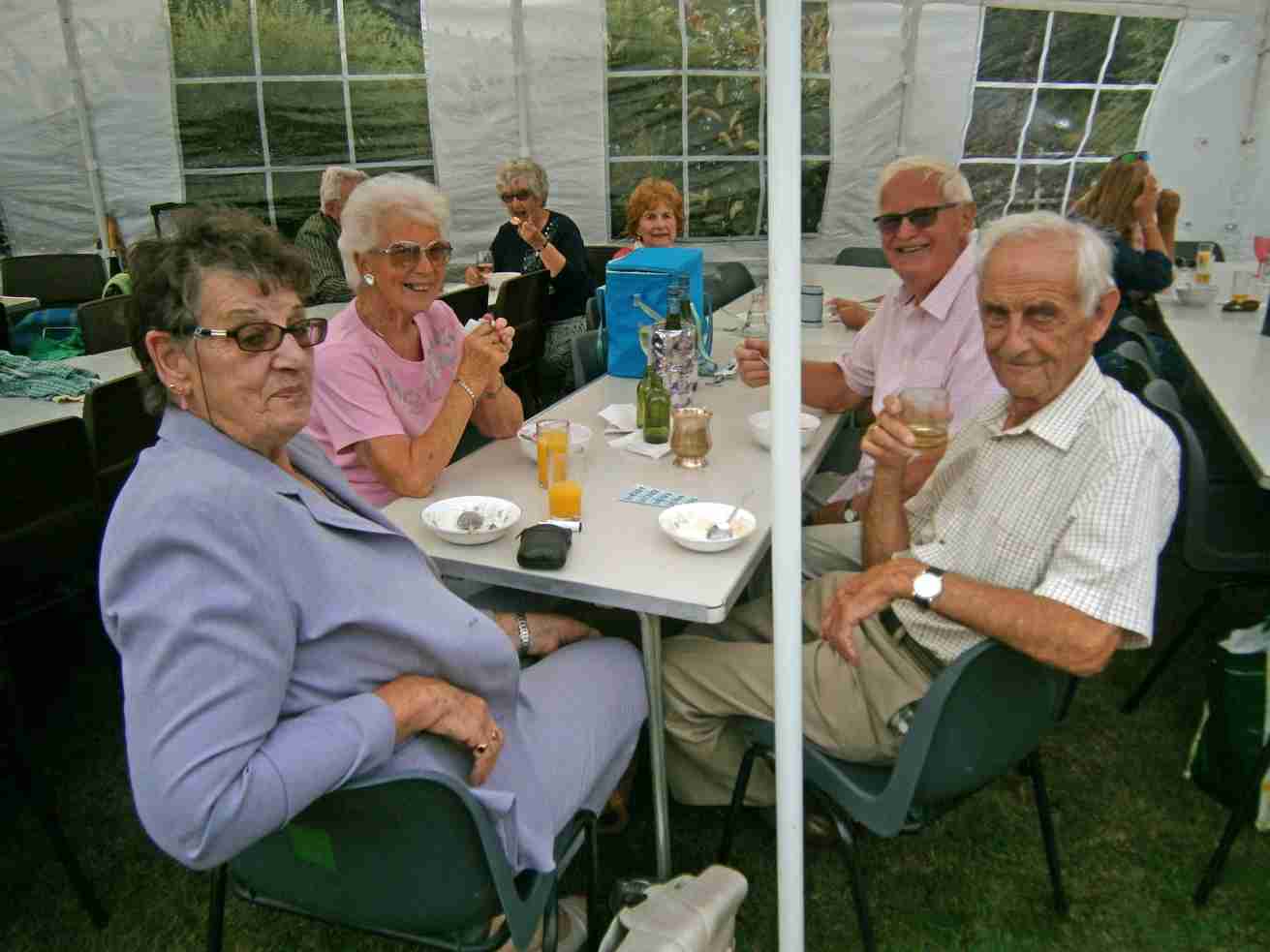 The main course was followed by a selection of puddings including sherry trifle, summer pudding, strawberry cheesecake, black forest gateau and Eton mess. The final course was a selection of cheeses and biscuits.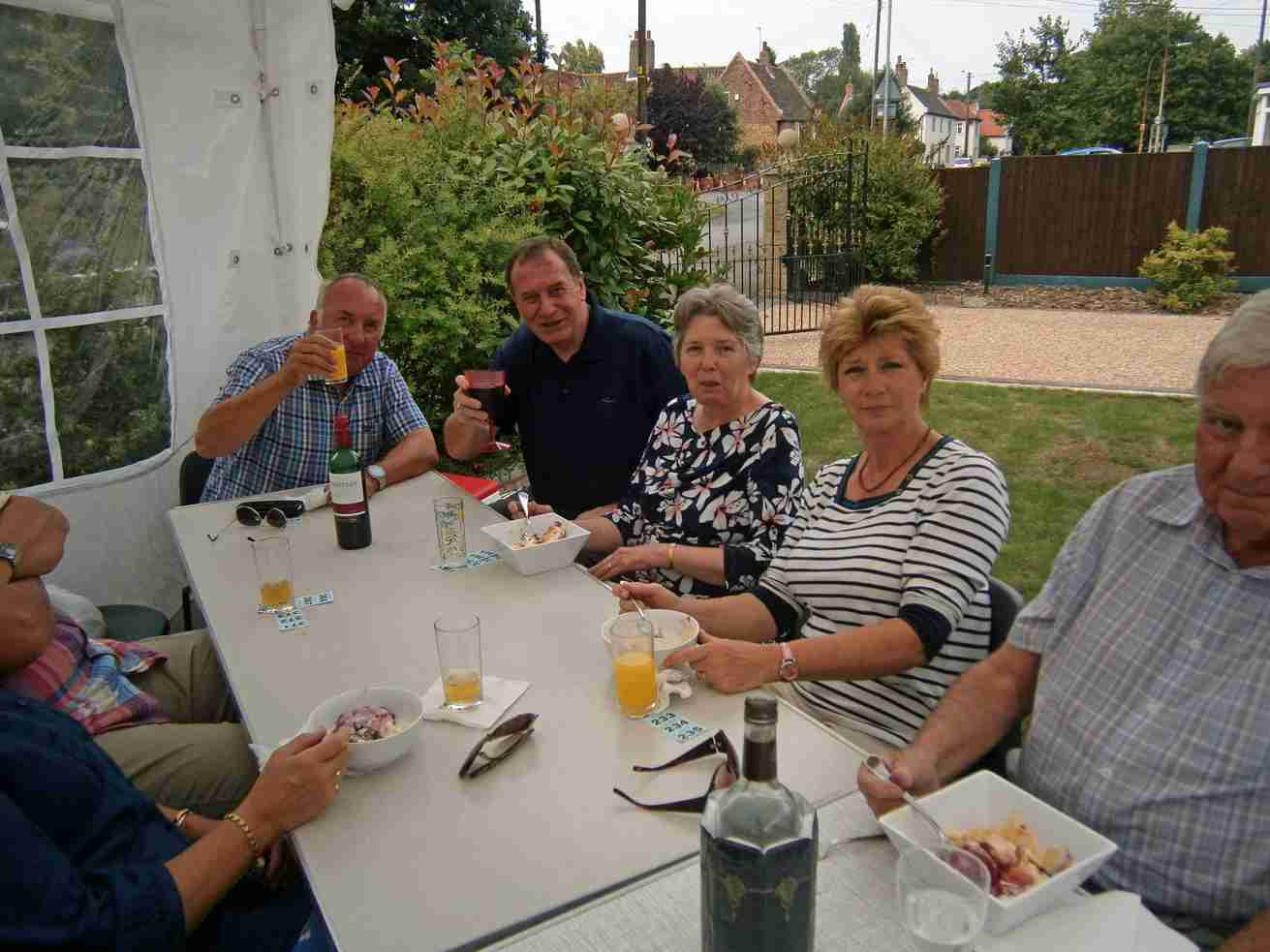 Much festive spirit was consumed and most of the brethren and guests completed their meal with tea or coffee.
To complete the day a raffle was held with 21 prizes donated by various brethren.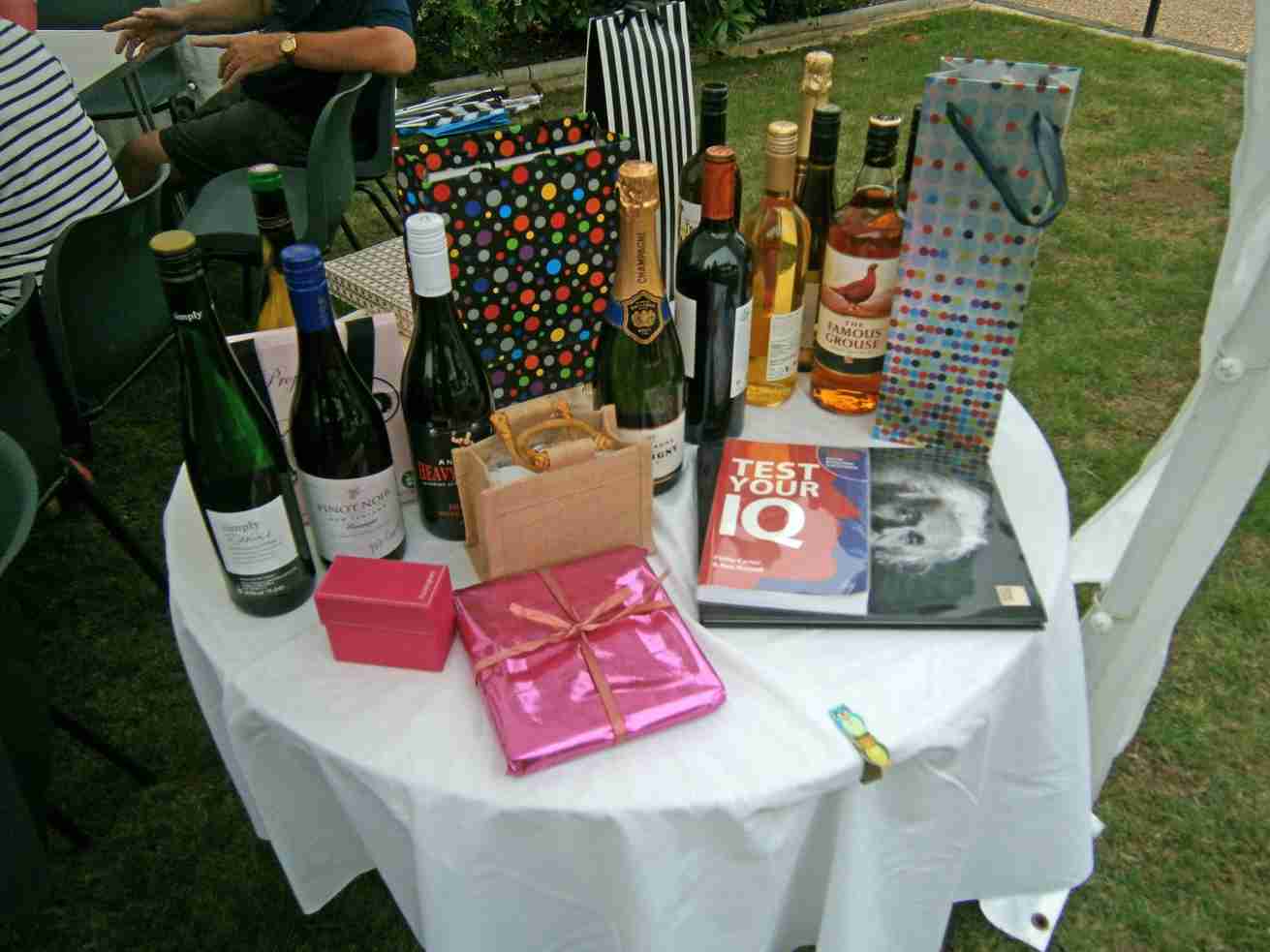 It is understood that all brethren and guests had a thoroughly good afternoon with all enjoying themselves. Brethren and guests were also extremely generous and a total of £350.00 was raised for the MBF and which included proceeds from the raffle.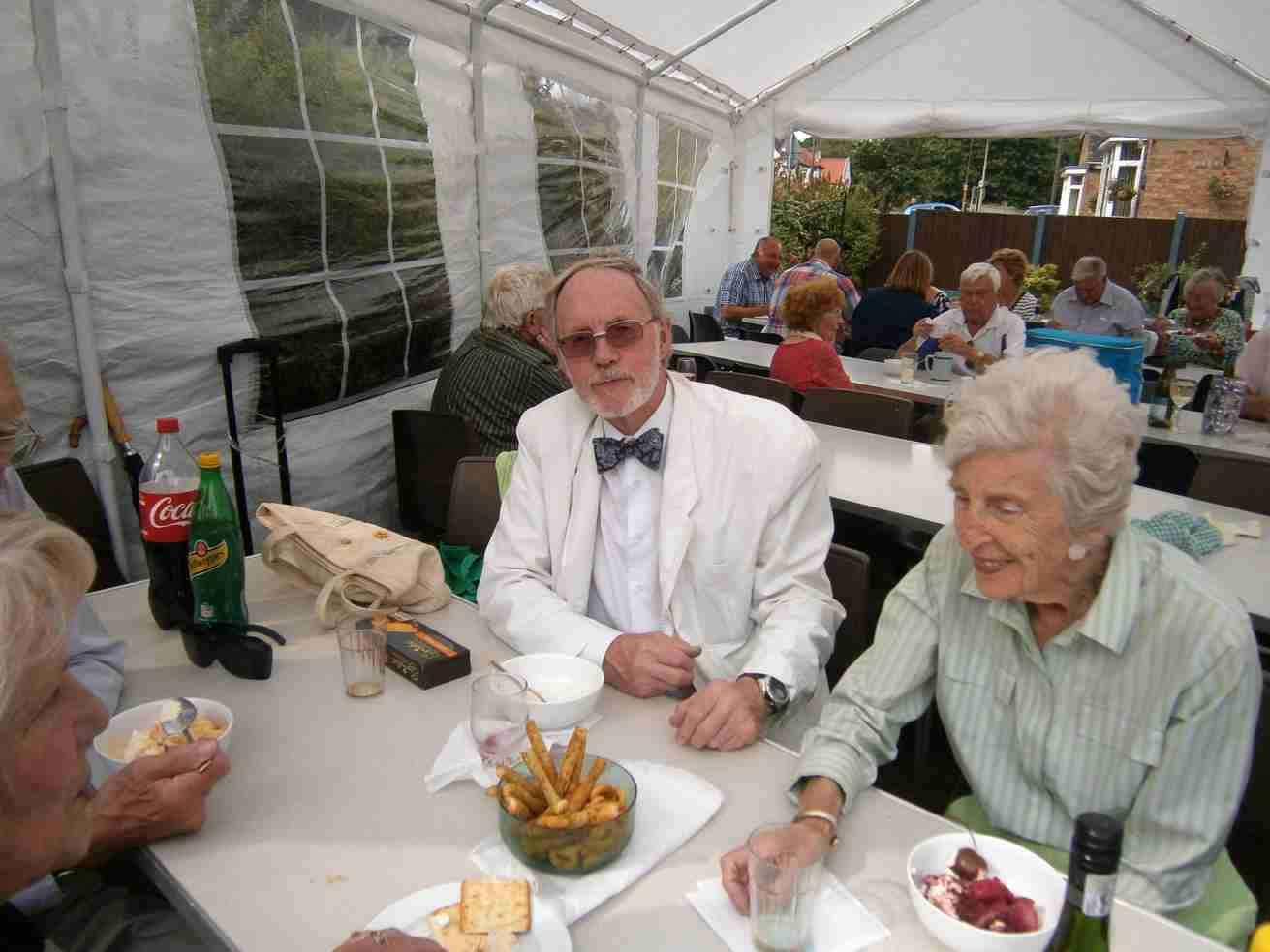 Finally, Frank & Julia would like to thank all Brethren for their support, encouragement and generosity in making the afternoon such a success.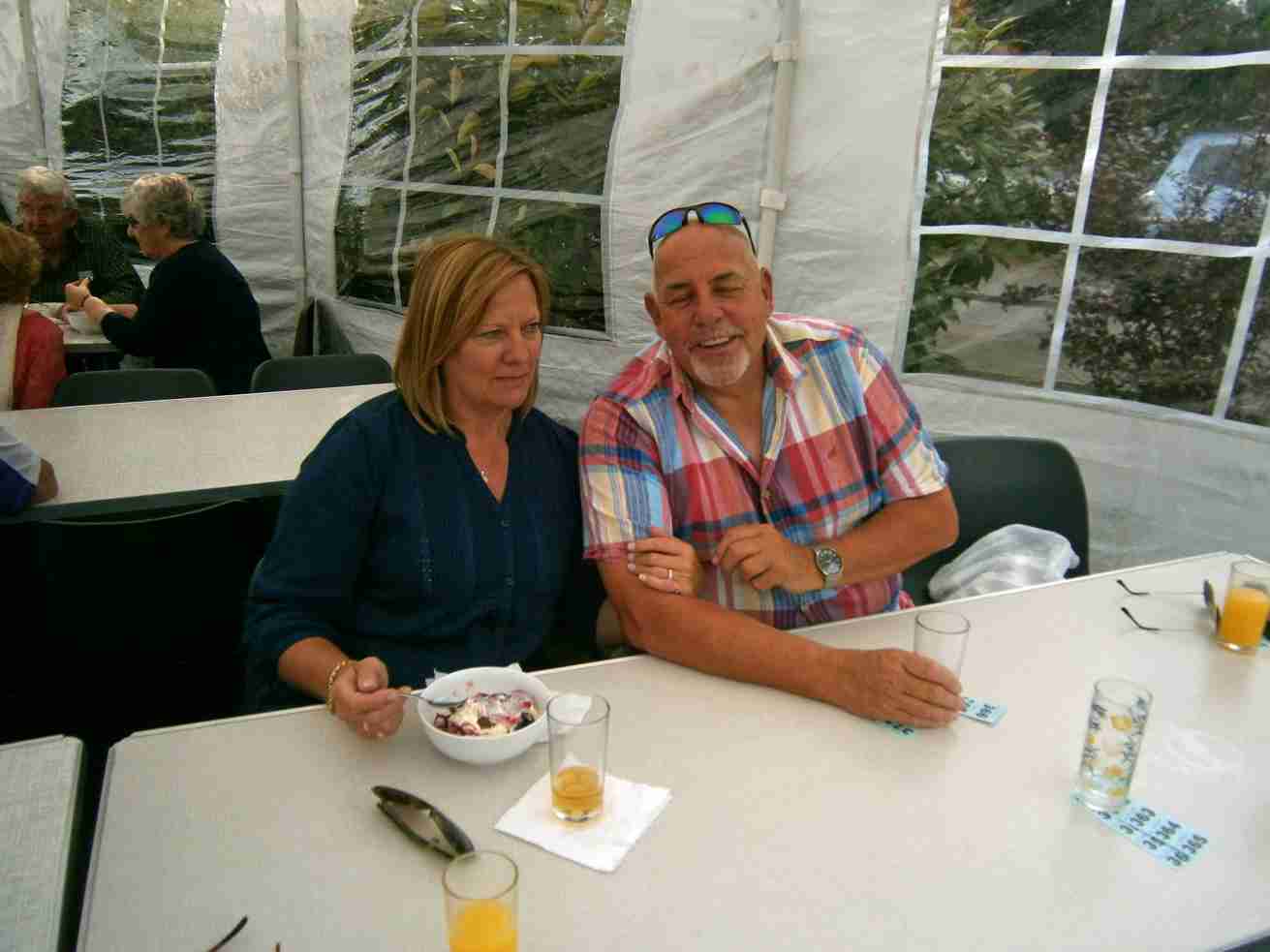 Watch this space for the next John 'O Gaunt Lodge MBF event!!
---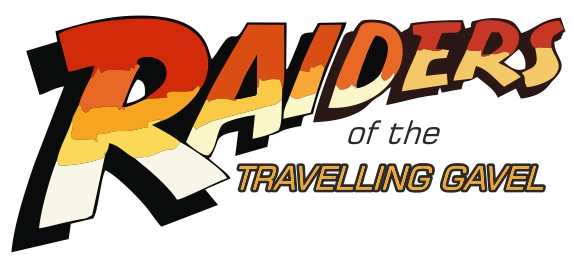 WM, W Bro Mike Denny, of St Swithun's Lodge MMM 445 Crowle, at their last meeting presenting the Travelling Gavel to WM, W Bro Barry Cooper, of John O'Gaunt Lodge MMM172.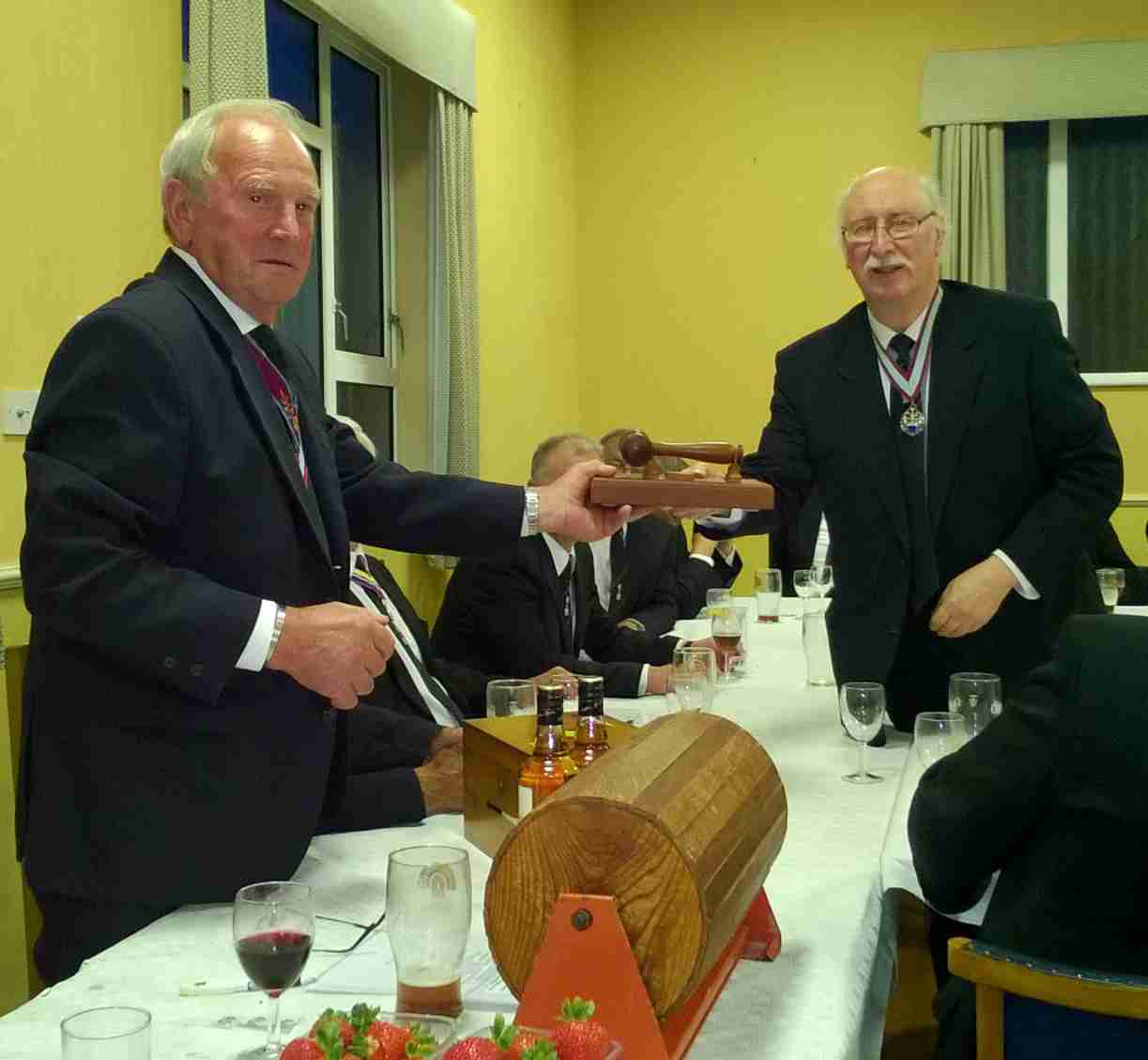 It now resides at the John O'Gaunt Lodge MM 172 and our next meeting is September 21st 2015
We welcome any Lodge wishing to attend and stake a claim !
---
Successful Railway Day

On Sunday 2nd August 2015 around forty people visited Richard and Joy Woods home in Gainsborough where Richard had opened up his three model railway displays to raise money for the 2018 MBF Festival.
As well as the superb model railway display Richard's wife Joy and his daughter Jane had prepared a wonderful assortment of cakes, served with tea and coffee, which were enjoyed by all who went along. It was a beautiful day so, after spending time looking at the display it was very pleasant to sit in the sunshine in a lovely garden and chat to friends.
A huge 'thank you' goes to Richard, Joy and Jane for all their hard work to make it such a successful event that raised £237 for the 2018 Festival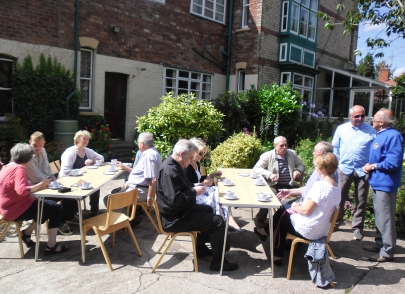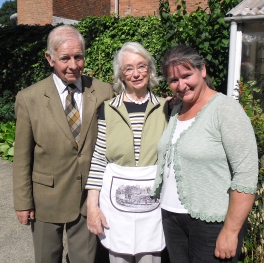 Tea and cakes in the sunshine                                           Richard with his wife Joy and daughter Jane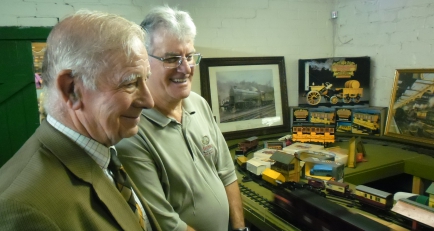 Richard Woods and Keith Robinson all smiles as the MAMOD steam engine whizzes past! 
---
Joint Coffee Morning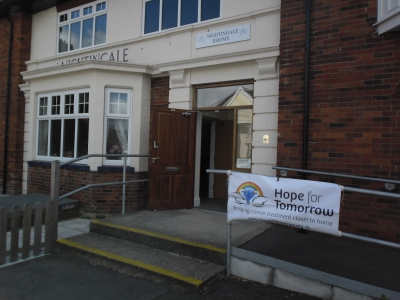 Remigius MMM 117 and White Stone MMM 1203 Lodges in Lincoln ran a joint coffee morning on Saturday 18th July for the 2018 Festival at the Nightingale, Lincoln. The event was very successful and well-attended and a happy time was had by all.
A combination of a cake stall, raffle, tombola and a shoe-shine stall raised just over £400 for the Festival. Pictured are people enjoying their day and W. Brother Richard Kent working hard to apply a 'military-style' shoe shine to a pair of Lodge shoes!
  
---
St Oswalds MMM No 387 Sponsored Bike Ride – Sunday 19th July 2015
When I announced a possible sponsored bicycle rise around the Masonic Centre's in the North of the county which had a Mark lodge attached, it seemed like a good idea! I had already roughly checked the mileage as around 74 miles, which was significantly more than I had cycled in a day before, but with the support of a number of other brethren and my brother, the plan was set!

Training rides were undertaken, bikes polished and oiled, and the weather was keenly watched over for the previous week and looked ideal for the day of the ride – slightly overcast, warm with little wind. All looked well set!
On the day of the ride however, the weather had decided to change – with rain forecast for the morning, and winds increasing throughout the day, but undeterred, we arrived at the Scunthorpe Masonic Hall in plenty of time for the 08:30 start time.

The six cyclists were myself, my Brother Rob, W Bro Alan Armiger, W Bro Dave Metcalf, Bro Dave Dowell and Bro Barrie Graham, ably assisted by support car driver Bro Fred Coles. We were waved off by Bro Steve Spavin.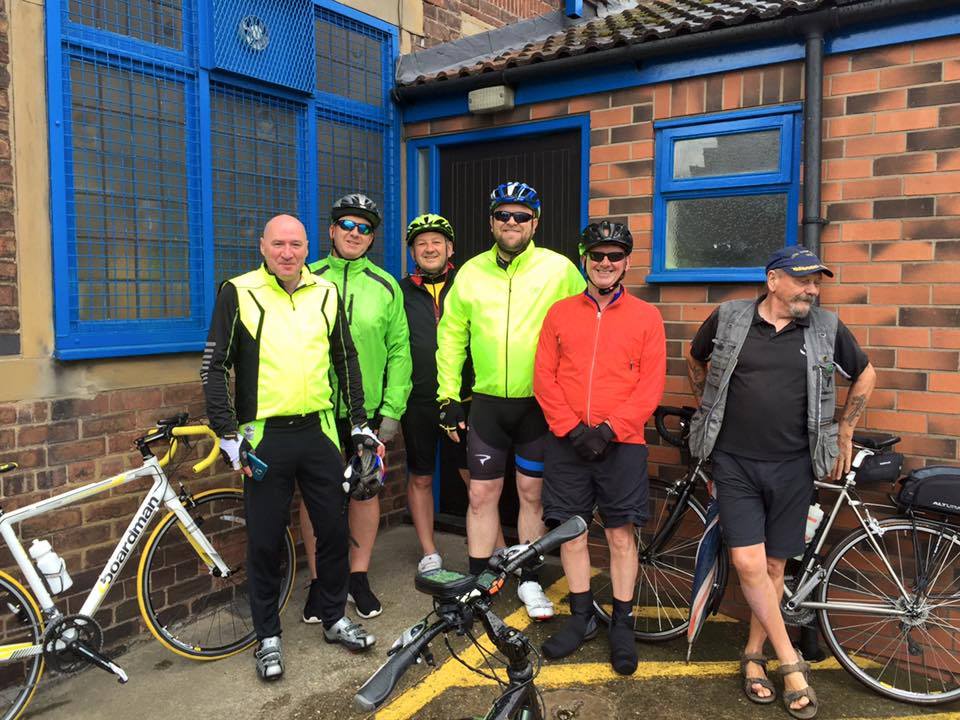 Scunthorpe Start

Our first destination was Barton Masonic Hall, 14 miles away, via Dawes Lane, Ermine Street, Horkstow Bridge, Horkstow Hill and down into Barton.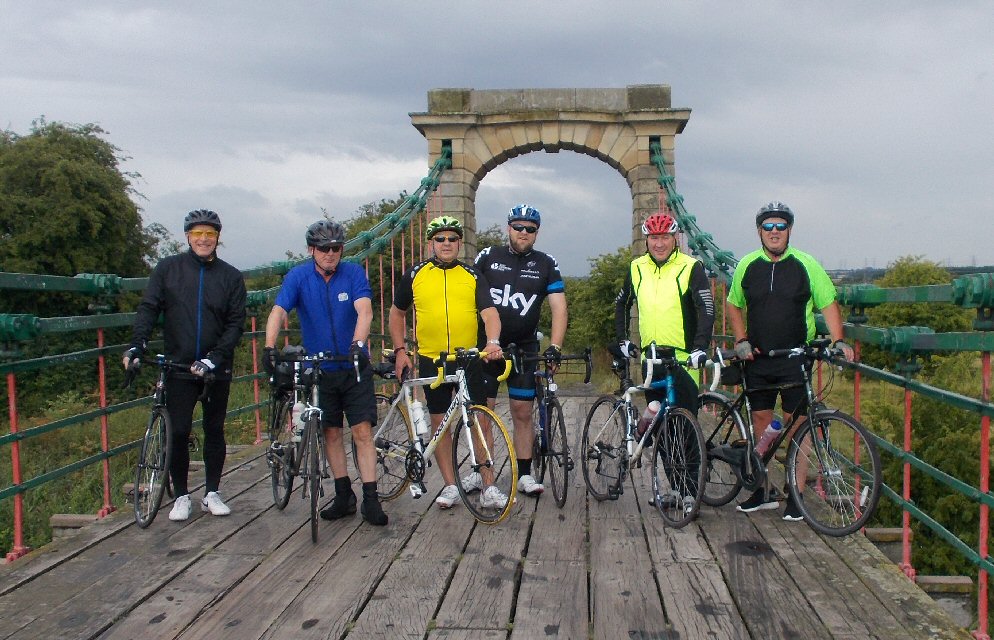 Horkstow Bridge

This part of the journey was relatively uneventful, albeit wet, having a slight back wind for quite a lot of the journey and apart from most of us walking up Horkstow Hill, we were soon at Barton where we were met by Bro Trev Mason.
Pic 3 – Barton Masonic Hall
From here we retraced our steps, back to Horkstow Hill, and down through Saxby All Saints, Bonby, Worlaby to Elsham.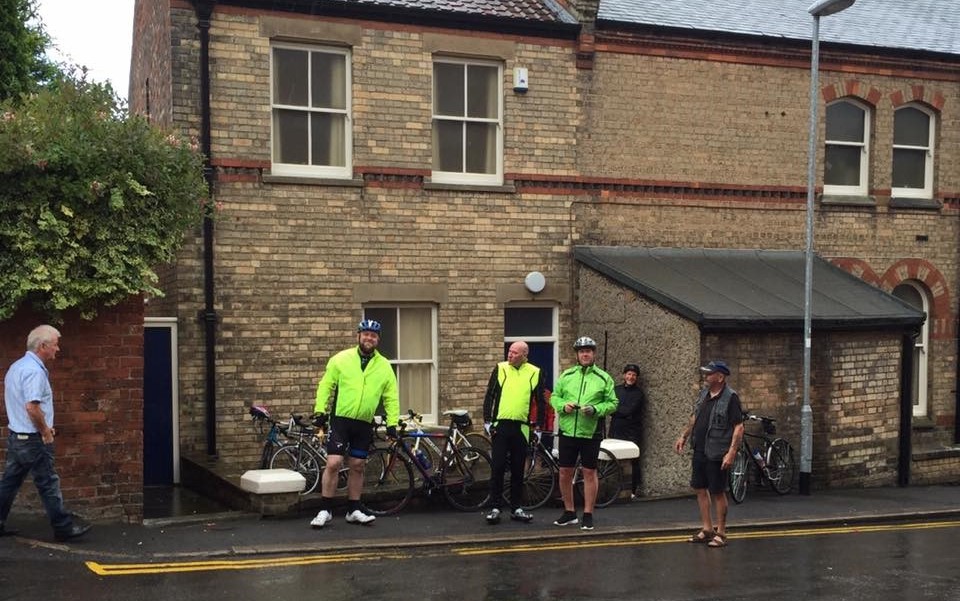 Elsham
Proceeding onwards, we rode through a huge downpour towards Wrawby before stopping for a well deserved coffee break in Brigg, where the sun began at last to shine! 29 miles were now completed!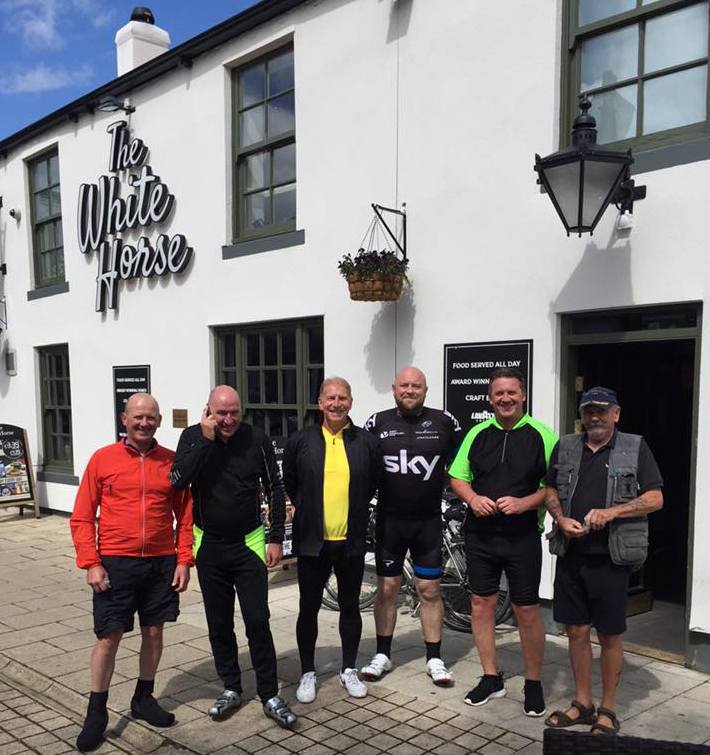 Coffee in Brigg
Feeling somewhat refreshed, we cycled on through Brigg, to Scawby Brook, Hibaldstow before cycling to our lunch stop at Scotton, via Cleatham Hill in what was rapidly becoming a strong wind. On paper, this should have been a relatively easy ride but it was far from it and there were some tired legs when we finally wobbled into the Three Horseshoes Car Park! We were almost at the 40 mile marker!
A reviving drink, and some excellent sandwiches and we were soon ready to push onto our next destination, Gainsborough Masonic Hall.
We were again at the mercy of the wind and another scenic section of Lincolnshire felt less wonderful as we pushed through Laughton, across to Morton before arriving at Gainsborough Masonic Hall, where we were warmly greeted by Bro Frank Powell, Festival Champion, W Bro Chris Oates and W Bro Barry Cooper. Also waiting patiently was W Bro David Wheeler, who was joining as a guest cyclist for the final 2 legs of the journey.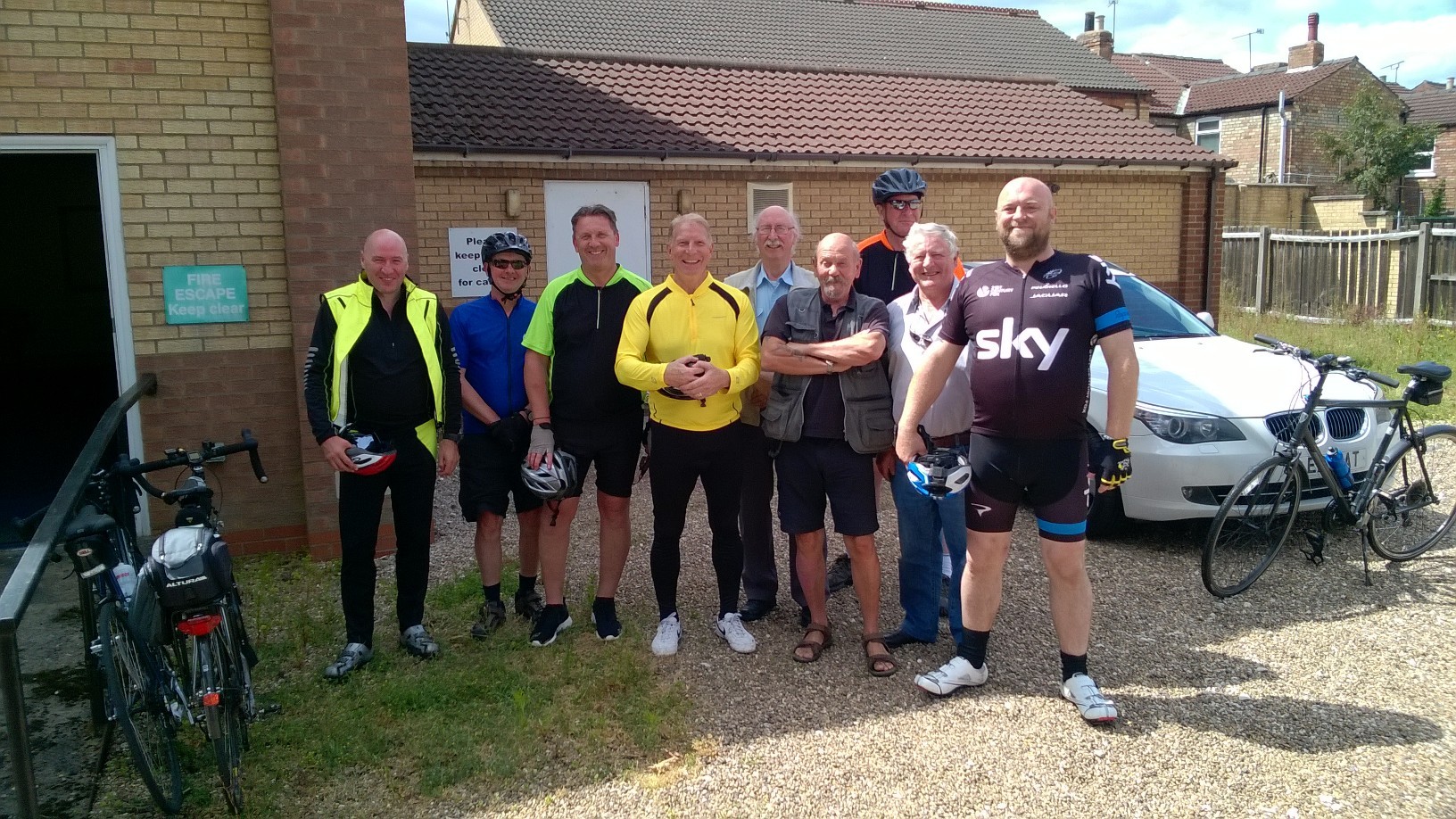 Gainsborough Masonic Hall
We were now 49 miles into the ride and I was beginning to doubt my arithmetic in adding up the distance of the ride, realising 74 miles was definitely not correct, but we were committed to carrying on (I think!). Never rely on Google Maps!
After another drink, biscuit and rest, we set off, over the Trent, along the riverbank until we reached the long slope into Beckingham which was (guess what) – head wind, and even stronger than before! Oh how we laughed!
Beckingham was reached, then Walkeringham, Misterton, then along the riverbank to West Stockwith, Gunthorpe, to Owston Ferry. This part of the ride had side winds and the occasional back-ish wind.
A quick break at Owston Ferry Playing Fields for drink (and my 4th banana of the day) before what I knew was going to be a hard part of the ride, inclines and head winds – my favourite! I must apologise to my fellow cyclists as I lost all sense of humour at this point and basically focussed on keeping going until we reached Epworth, Belton, then into Crowle where W Bro's Mike Robinson, Ray Stokes and Cliff Burke had the coffee made and biscuits ready for us. 71 miles recorded!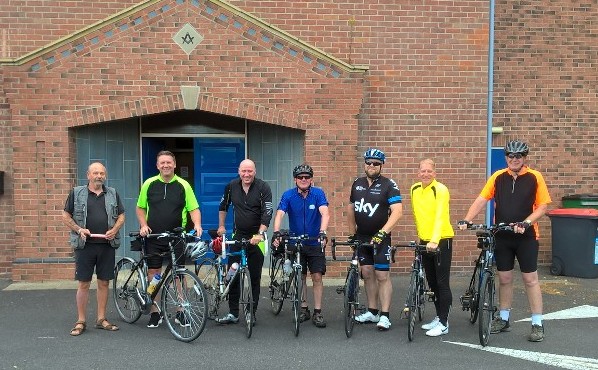 Crowle Masonic Hall
The last leg from Crowle to Scunthorpe was thankfully backwind and along the A18 we reached some reasonable speeds, though this was probably driven on by the thought of the beer waiting at the finish line, which was at the Dolphin Inn in Scunthorpe, and there was NO-ONE happier to see it than me!
Final mileage 80 miles plus all riders had to get to the start point and back home so most were in the mid to high 80's!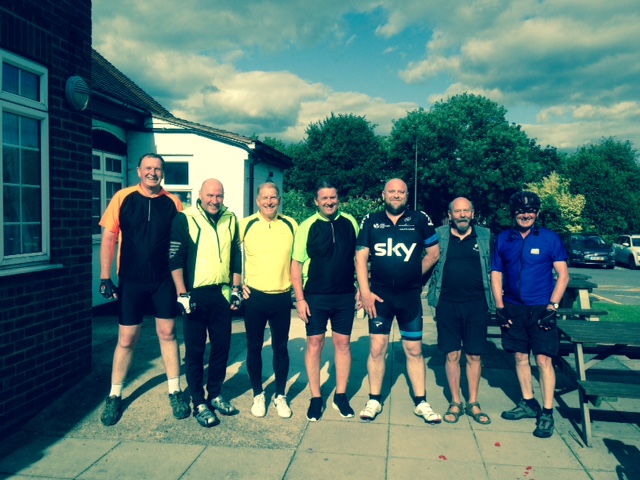 The End – The Dolphin Inn
Personally this was a real achievement for us all, and way above my own personal comfort zone, and everyone did brilliantly well, and over a beer we discussed next year's challenge, which at first I wanted to be a 5's and 3's domino-fest, but as the beer flowed I found myself once again drawn to another bike ride – oh dear – here we go again!
---
 Provincial Draw held at The Ark Lodge No. 1910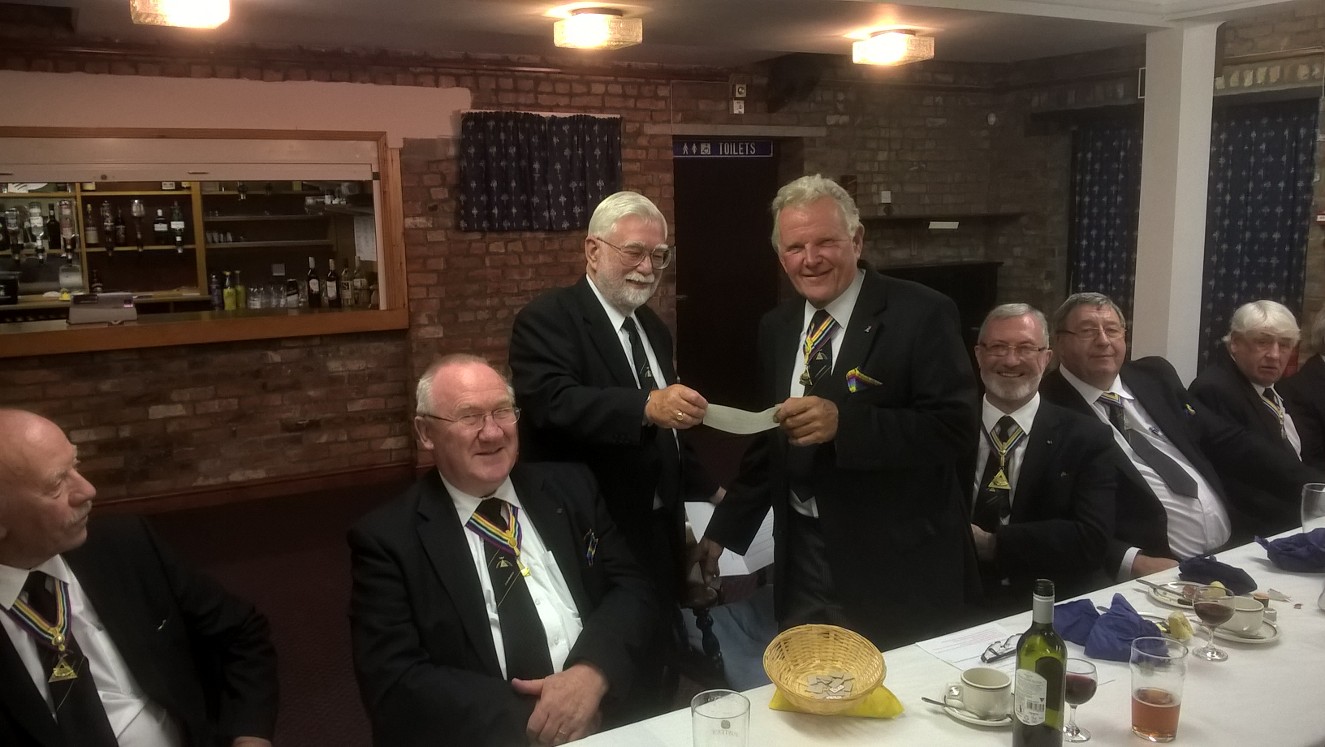 The latest MBF Festival Draw was held on 10th July at The Ark Lodge No.1910, at Alford. The photo shows W.C Geoff Burgoin RAMGR receiving a cheque from W.Bro Mike Robinson for £2708.00 to forward to the Festival making £10,788.00 donated so far. The prize winners were 1st for £300.00. Bro. Shaun Dickson of Alexandra Lodge, 2nd for £200.00 W.Bro. Hugh Smith of St. Swithun's, 3rd for £100.00 W.Bro. john Moulson of The Haven, and the promotional prize for May and June of £60.00 went to Bro. Gregory Stratford of Spurn and Humber Lodge.
---
Grand Mark Investiture
W.Bro Ray Wade organises a coach to the Grand Mark Investiture. A day out to support the brethren receiveing honours and a chance to experience masonry at our Grand Lodge in Great Queen Street, London. A meeting not to be missed. Afterwards, on the return leg, there is always a meal stop, with a chance to enjoy a  great meal and reflect on the day's events.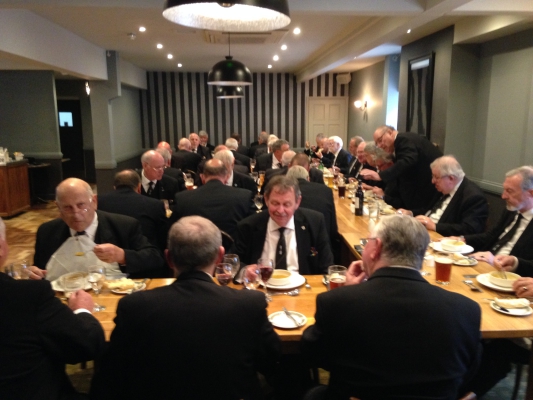 Enjoying the festive board at the Templars Hotel Baldock after supporting the six Lincolnshire Brethren being invested with Grand Lodge Honours.
---
Joey Dunlop Lodge MMM

The Joey Dunlop MMM Lodge 1881
is a peripatetic Lodge of Motorcycling Mark Master Masons dedicated to the memory of Isle of Man TT legend Bro. Joey Dunlop OBE.
Installation is always at their "base" (Lutterworth) in Leicestershire but other meetings are all over the country.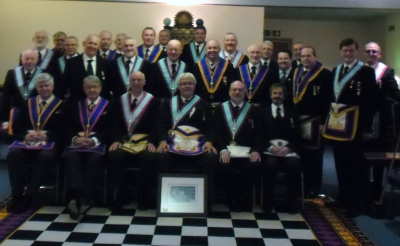 On 
Saturday16 May they brought their meeting to Lincoln with White Stone MMM Lodge 1203 being the sponsoring Lodge. 18 members of the Joey Dunlop Lodge came to Lincoln from all over the country, many travelling by motorcycle, and they were welcomed by 8 Lincolnshire Mark Masons, including Very W. Bro J. C. Board the Deputy PGM. What followed was an excellent Lodge meeting followed by a very enjoyable Festive Board.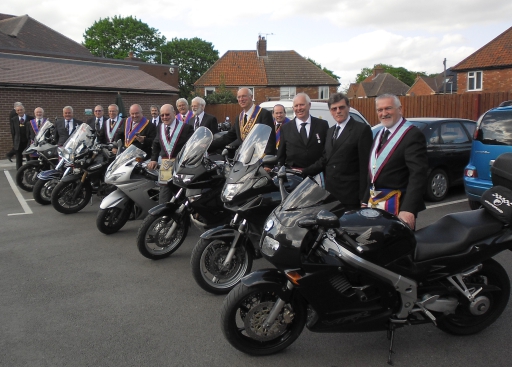 The WM of Joey Dunlop Lodge said he was overwhelmed by the welcome their Brethren had received at Lincoln. It was a super day and the only disappointment was that not more Brethren were able to attend to enjoy the event. It is hoped that the Joey Dunlop Lodge may visit again in the future and I would suggest this would be an event not to be missed.
---
St Oswalds Mark Lodge Presents Cheque

W.Bro Keith Lacey receiving a £600 cheque for the 2018 festival from Martin Cooper the WM of the St Oswalds Mark Lodge
---
Mobile Chemotherapy Unit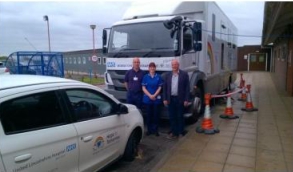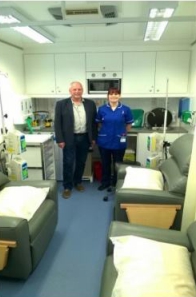 W. Bro Phil Anyan & W. Bro Chris Oates recently took the opportunity to catch up with progress and visited the unit in between Patient appointments on one of its many visits to Lincoln County Hospital.
W Bro Phil Anyan is pictured with Deputy Sister Katrina who is responsible for the day to day care and treatment of patients making use of this excellent facility. Also pictured is Dave who is responsible for the driving, along with all other aspects of running the unit.
The Unit, based in Boston, has so far proved to be a valuable asset for the County and will shortly be further utilised in Grantham, followed by other County locations as soon as is possible. Katrina commented that patients who have had the opportunity to use this mobile facility have been very appreciative of the relaxed, comfortable and convenient surroundings.
---
JOHN O' GAUNT, ST. SWITHUNS & ST. OSWALDS LODGES
HARBOUR CITY FLOATING RESTAURANT CHINESE BANQUET 30 APRIL 2015
On the 30th April 2015 the Harbour City Floating Restaurant at Burton Waters, Lincoln played host to eighty three Brethren for a Chinese Banquet which was organised by the MBF Champion Bro Frank Powell from the John O' Gaunt Lodge, Gainsborough.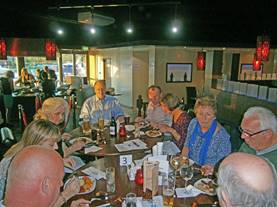 Guests included brethren and their ladies/partners from numerous lodges, including John O' Gaunt, St. Swithuns, St. Oswalds, Nene, St. Wilfreds, Mercia, St. Nicholas, Yarborough, Remigius and other lodges.

Steven Lee the owner, the manager Bing and the staff were very proficient and the chef put on a splendid buffet menu which included such culinary delights as Chicken sweet corn soup, Prawn on toast, BBQ ribs, Salt chilli chicken wings, Crab claws and Thai fish cake for starters.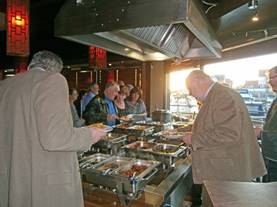 The main courses included Stirred Fried Beef in ginger and spring onion, Duck in Thai red curry, Sweet and sour chicken Cantonese style, Szechuan chicken, Homemade sweet and chilli port, Stirred mix vegetables, Steam Salmon in Japanese teriyaki sauce and Prawn in oyster sauce.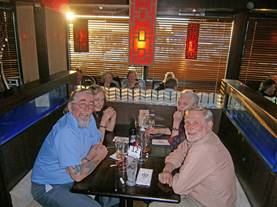 This was all accompanied with various types of rice, chips and prawn crackers. What was even more surprising was that the chef also put on a Chinese Fruit Platter to finish with.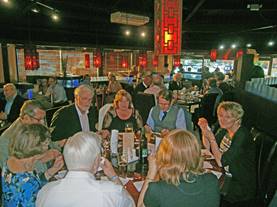 Much festive spirit was consumed and most of the brethren and guests completed their meal with tea and coffee.

To complete the evening a raffle was held with seven prizes donated by various brethren and which included a consolation prize of one MBF Pen.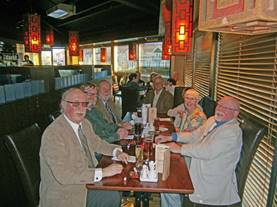 It is understood that all brethren and guests had a thoroughly good evening with all enjoying themselves. Brethren and guests were also extremely generous and a total of £662.50 was raised for the MBF and which included proceeds from the raffle, the sale of MBF Pens and donations.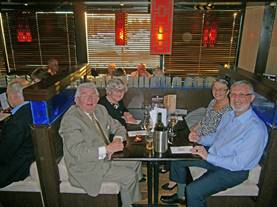 Finally, the John O' Gaunt MBF Champion would like to thank all Brethren for their support, encouragement and generosity in making the evening such a success.

The next event will most probably be a Barbeque in the summer. What's this space!!
---
Urania Race Night
The Urania Lodge Race Night in Louth raised £500 for the Mark Benevolent Fund. A entertaining night was had
by all. With thanks to St Wilfreds, Bayons, Mayflower, and Earl of Scarborough for their support, and a special thank you to Derek Meakin and his Horse Racing Team.
Further to the postage stamps, the first lot sold for £46 and the 
second for £44.So after fees hope to have raised £80 or so after E-bay 
fees. So now desperate for more stamps, 
so please continue to clip the stamps off your mail and get them to me. Thank you for your support and the support to the 2018 Festival. David
---
Wanted
Your Old or New postage stamps and postcards

Juvenile collections gathering dust somewhere, clippings from your own or office mail anything I can group together and sell on eBay to raise funds for the 2018 Festival.

Over the next couple of years I will be travelling around the Province so can collect from Masonic Centres or if you are visiting Louth or Alford please just leave them there and I will pick up.
(Not looking for 1d Blacks)
Just your support
Thank You
David Southwood
Provincial Junior Overseer
Contact TEL: 01507 606236
or
Email: dws414@tiscali.co.uk
---
Lincolnshire Mark Prize Draw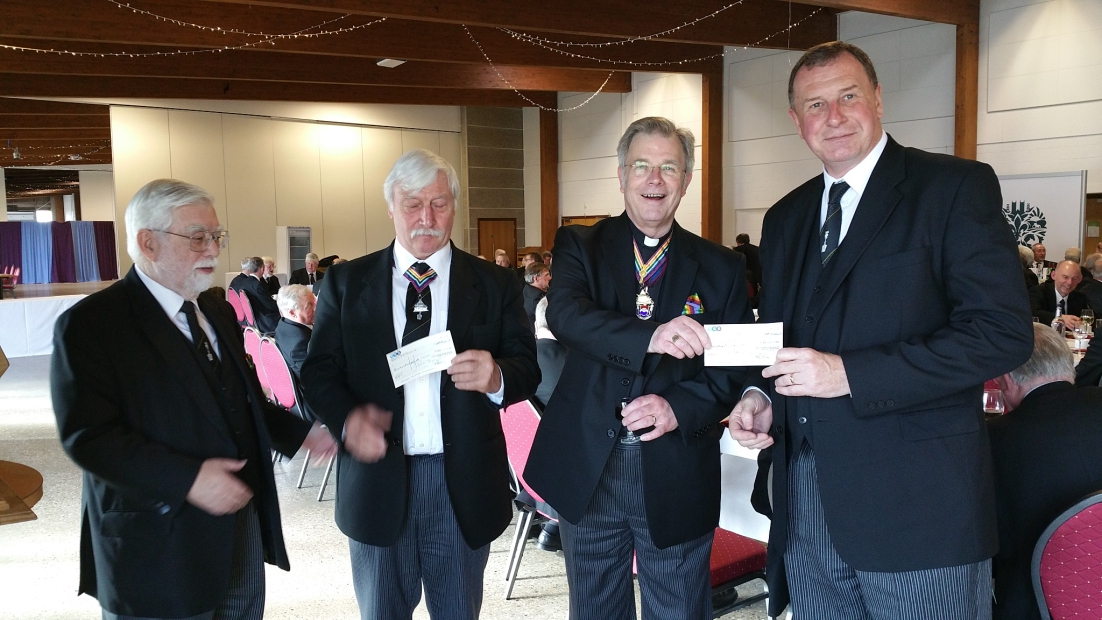 The Prize Draw was drawn at the Provincial Grand Lodge, at the Lincolnshire Show Ground on Saturday 28th March.
There were three winners:
1st Prize £300 Bro. P.L. Gibbons of Sutcliffe Lodge No. 188
2nd Prize £200 Bro. C. L. Rimington of St. Oswald's Lodge No. 387
3rd Prize £100 W. Bro. C. L. Burke of St. Swithun's Lodge No. 445
A cheque for £2,368.00 was handed to W. Bro. John Clements, the Provincial Charity Steward, to go to the Festival appeal making a total of £8,084.00 in the last year.
We now have sufficient members to make the Draw four times a year, the next one will be at the end of June when the prizes will be a minimum of £320, £215, and £105.
This is a good way to help the Festival and your honourifics.
If you are not a member of The Draw already ask your Lodge Champion for an application form and join now, if you'r not in it you won't win it!
Mark Festival Raffle
The raffle was also drawn at the Provincial Grand Lodge and the winners were:-
1st Prize £500 W. Bro. J. A. Clarke
2nd Prize £300 S. Lambert
3rd Prize £100 Bro. C. A. Lines
4th Prize £50 W. Bro. C. Hunton
5th Prize £50 W. Bro. D. M. Wheeler
We would like to thank everyone who returned the raffle tickets, we were able to donate £1,877.00, after expenses, to the Festival.
---
Saturday 28th March 2015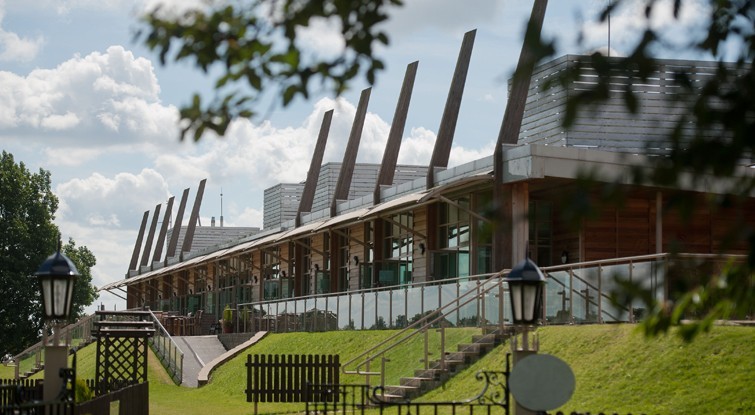 Provincial Grand Lodge was held  at the Epic Centre, Lincolnshire Showground, Lincoln on Saturday 28th March 2015. 
Visitors and Mark Master Masons who attended enjoyed a great day.
After opening PGL, Rev. Trevor Walker, Provincial Grand Master of the Provincial Mark Grand Lodge of Lincolnshire, was pleased to welcome visiting Provincial Grand Masters and distinguished guests from thirteen other Provinces.
Following the investiture of the officers and brethren of the province, he later gave the following address to the assembled brethren, who then retired to a sumptuous repast in the adjoining room.
| | | |
| --- | --- | --- |
| R W Bro Peter Connolly PGM of West Lancashire is asked to draw a lucky number for the Mark Draw. | The PGM toasts with R W Bro Peter Hamilton Rollin Past PGM of East Anglia and President of the General Board at Mark Masons'  Hall. | Breakfast butties as well as tea and coffee were available at the new venue and the brethren are seen availing  themselves of the goodies  on offer. |
|   |   |   |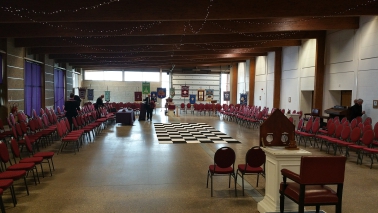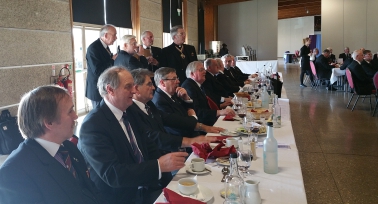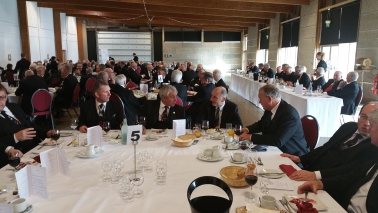 Address by Rt. W. Bro. Rev. Trevor Walker
It is a very great pleasure for me to welcome you to this 141st. Meeting of the Provincial Grand Lodge of Mark Master Masons of Lincolnshire. As always it is wonderful to see you gathered together and especially this year - as you have obviously been able to find your way to our new venue - the Epic Centre at the Lincolnshire Showground.
Our move from the Bishop Grossteste University was necessitated due to our success. Growing numbers attending this meeting meant the university was no longer able to accommodate us. Provincial Grand Lodge is for all the Mark brethren and it was neither my wish nor that of the executive that anyone who wished to attend should be precluded from doing so for lack of space. So brethren I hope you will enjoy our new spacious meeting place.
Moving the location of Provincial Grand Lodge has entailed a lot of hard work and I especially wish to thank my Deputy and Assistant PGMs, the Provincial Grand Secretary and his assistants, the Provincial Grand DC and his team, and of course the Lincoln brethren. Thanks also go to the members of St. Botolph's Lodge No. 946 and Mercial Lodge No. 1240 for hosting this meeting and for all their assistance in its smooth running.
It was a great sadness for all of us who knew him to receive the news of the death of V. Wor. Bro. Trevor Harold Kitchen last year. V. Wor. Bro. Kitchen was our P. Dep. PGM. and he was a tireless worker for and supporter of the Mark Master Mason and Royal Ark Mariner degrees. I will always be grateful to Trevor for all the assistance and guidance I received from him when I was appointed P.G.M. We are all missing his cheery presence in our lodges and pray he now rests in peace.
The main business and the purpose of our meeting is to appoint and invest the Provincial Officers for the forthcoming year. I congratulate all those I have been privileged to appoint and invest today. These appointments are awarded on merit and are a token of appreciation for all your work for the degree in our province. They are also of course an encouragement for your continued efforts and I am sure that trust will not be misplaced. I also apologise if anyone feels they have been overlooked. Brethren I am restricted in the number of recipients of these honours I can confer and I am aware there are more who deserve honours than I am allowed to bestow. Please be patient - all things come to he who waits! I think!
It has been a great joy for me to be accompanied on team visits by the Provincial Officers for this last year. The numbers attending have filled me with pride (yes I know it is a sin!) and from the comments I have received I know you have enjoyed those visits. It is also a great boost to the lodge we are visiting to see the team parade in. Often on these evenings new friendships are made and is not that what freemasonry is about? Visiting and making new friends! To enable this fellowship to continue I do urge all Provincial Officers to consider joining the Provincial Officers' Lodge.
Now I wish to thank the Provincial Wardens. W. Bro. Phil Anyan and W. Bro. Robbie Nasmith have travelled the length and breadth of Lincolnshire. As Phil lives in the far North West and Robbie in the equally far South East I thought they might have divided the county between them. But brethren as you are doubtless aware they have visited most of the lodges all over Lincolnshire. Thank you brethren.
I have appointed a new Provincial Grand Almoner - W. Bro. Jack Geelhoed. V. W. Bro. Bob Parsons has held this office for fifteen years and of course was before that Provincial Grand Secretary. I am very pleased that he has agreed to continue as a member of the General Purposes Committee to assist us with his great experience. I therefore take this opportunity to confer Life Membership of that Committee on V. Wor. Bro. Robert Spencer Parsons. I and all the Lincolnshire Mark brethren are indebted to you V.W. Bro. Parsons for all you have done and especially for your very caring way in looking after the needs of brethren and their families. We are the caring friendly degree in freemasonry and brethren our Past Provincial Grand Almoner has shown this to be truly so. I am also pleased to remind you brethren he is very much NOT retired and will be offering assistance and counsel to W. Bro. Jack Geelhoed.
Bro. Provincial Grand Director of Ceremonies I should be pleased if you would now escort the Provincial Grand Tyler into Provincial Grand Lodge and bring him to the pedestal. Brethren Bro. Colin Hornsey has in his own quiet and unassuming way undertaken the duties of Provincial Grand Tyler for several years. He to my knowledge has never or very rarely been absent from a Team Visit and therefore I have no hesitation in promoting him in Provincial Grand Lodge to Past Grand Sword Bearer. Thank you Bro. Hornsey.
Last June many brethren from Lincolnshire travelled to London to witness the Grand Master appoint and invest the new Pro. Grand Master, Deputy Grand Master and Assistant Grand Master. It was a most splendid occasion and made more so by the Grand Master also promoting and investing V. W. Bro. Graham Ives Past Grand Senior Overseer, W. Bro. Walter Beard and W. Bro. John Hockin Past Grand Junior Deacons. W. Bro. Barry Robinson received the first appointment of Past Grand Senior Deacon, W. Bro. Peter Hooper Past Assistant Grand Sword Bearer and W. Bro. Alan Farmer Past Assistant Grand Standard Bearer. W. Bro. Philip Aitken received the Active Rank of Grand Standard Bearer.
On Tuesday 9th. June W. Bro. Ray Wade will again arrange the coach trip to Grand Lodge. This year I am delighted to announce that the Grand Master has been pleased to confer the following ranks in Grand Lodge to brethren from Lincolnshire. W. Bro. Tony Austin is to be promoted to P. G. Jun. Deacon, W. Bro. Keith Robinson to be promoted to P. G. Jun. Deacon, W. Bro. Mike Robinson receives a first appointment as P.A.G.D.C., W. Bro. Steve Roberts P.A.G.Swd.B., and W. Bro. Ian Castledine P.G.Std.B. W. Bro. Les Darby is to be appointed to the active rank of Assistant Grand Director of Ceremonies. We congratulate all those brethren and look forward to seeing them receive their honours in Grand Lodge. The coach is not yet full brethren - but nearly - so do make your booking with W. Bro. Ray Wade as soon as possible.
Last November a most splendid occasion here at the Epic Centre marked the culmination of the Lincolnshire 2014 Craft Festival. I know the Provincial Grand Master was very proud to announce over two and three quarter million pounds had been raised for the RMTGB and was very grateful for the support received from Lincolnshire Mark brethren in achieving that wonderful total. We offer you, sir, our sincerest congratulations on a wonderful festival.
Brethren our thoughts and efforts now turn to our 2018 Mark Festival which Lincolnshire is privileged to be hosting in aid of the Mark Benevolent Fund. This charity has for nearly one hundred and fifty years been providing assistance to needy Mark Brethren and their families. This assistance is able to be given very quickly when needed and often before other help can be organised. An example of this is only yesterday the MBF issued a newsletter you will all receive detailing an emergency grant to the people of Vanuatu who recently suffered severe devastation from a cyclone. Those funds are already with the people of the South Pacific. As well as providing immediate relief the MBF also supports worthy causes. One such you are all aware of - Hope for Tomorrow - which provides Mobile Chemotherapy units.
Our 2018 Festival is also the 150th. Anniversary festival of the MBF and it is an honour for Lincolnshire to be the host. It has been decided by the Trustees of the MBF that in recognition of this milestone in its history a special worthy causes grant would be made to Hope For Tomorrow. This will provide ten mobile units by 2018. Last May one such unit was presented at Grantham to be used in Lincolnshire. It has been named Elaine after the late wife of our Past Provincial Grand Senior Warden. Elaine fought bravely against cancer and I am sure Phil is proud her name is continuing that fight here in Lincolnshire through the work of the Hope For Tomorrow Mobile Cancer Unit named in her honour.
We must do all we can to support the 2018 Festival - not least as we have already benefited from the charity. To that end I appointed a new 2018 Festival Committee which is now working very hard under the chairmanship of W. Bro. Dave Wheeler Prov. G. Junior Warden. I thank all the brethren now serving on the committee for their hard work.
I also thank W. Bro. John Moulson, a member of the committee, for instigating the idea of Lodge Champions. Each Mark and Royal Ark Mariner Lodge has appointed a Festival Champion to work alongside the Lodge Charity Steward in promoting the 2018 Festival. I thank the Champions for the work I know they are already doing from the number of events in support of the 2018 Festival already arranged. Please give these events your strongest support brethren. It is not just about money - it is also about fun and enjoying our Mark Masonry.
W. Bro. Mike Robinson inaugurated the Lincolnshire MMM 2018 Festival Draw. It has already raised a substantial amount of money and brethren your donation can count towards your MBF honorific. If you have not yet joined then do remember there is nothing wrong with trying to win a draw - St. Matthias was elected an Apostle that way as was Pope Francis! The latest draw will take place after the festive board today.
The 2015 Mark Festival in aid of the MBF is being hosted by Worcester and some of us from Lincolnshire are looking forward to going in July. Bro. Provincial Grand Director of Ceremonies please escort W. Bro. Adrian Hutt to me. W. Bro. Hutt please accept this cheque from the brethren of Lincolnshire with our very best wishes for a most successful 2015 Festival.
I am very pleased to note from the Registrar's report today that our membership shows a slight increase from the figures for last year. I do urge you to continue to seek out the right brethren to join our lovely order. I commend to you the information leaflets produced by W. Bro. Derek Bontoft the Assistant Provincial Grand Master. Make sure they are available in your Masonic Centres and pass them to any Craft Masons who might be interested. Above all do what you can to support your Craft Lodge and make sure it is strong with new members being welcomed. Without a strong Craft we cannot have a strong Mark!
I also commend to you the Lincolnshire Mark Website. I am very grateful to Bro. Craig Maurier the Assistant Provincial Grand Secretary for compiling the web site and being the web master. If you have not yet logged on - then do so as you will see what is happening and will find it of great interest. I suggested to my daughter in Australia that she had a look at the web site. She found it extremely interesting - especially the picture of Bro. Terry Clay of Spurn and Humber Lodge. Terry is riding in the world naked bike ride in June to raise funds for the 2018 Festival! However my daughter was worried she might be in trouble for viewing the picture on her work computer.
Brethren this address to you is really all about thanks. I thank you all for the wonderful welcome and hospitality you extend to me and my representatives when we visit your lodges. I thank you for the wonderful events you organise and invite me to. I thank you for your attendance today and hope you enjoy Provincial Grand Lodge - and come again! More than anything else I thank you for allowing me to be your PGM and thank you for the fraternal friendship we all enjoy through being Mark Master Masons.
May the Great Overseer of the Universe be always with you.
---
Wednesday 25th March 2015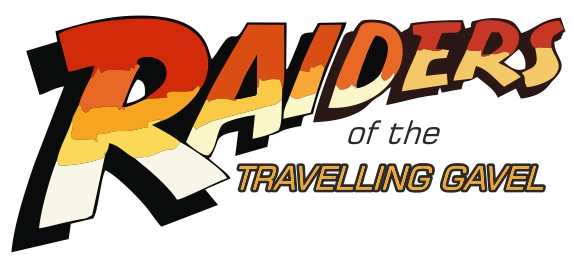 Members of John O'Gaunt Lodge from Gainsborough made a raid on the St Swithurns Lodge in Crowle with 13 brethren to claim the Gavel.
Unfortunately for them, 14 brethren of the St Oswald's lodge were also in attendance and claimed the Travelling Gavel for Scunthorpe.
Why not get a party together to claim the travelling Gavel for your Mark Lodge? You will enjoy a great night whilst on your raid and enjoy the company of more visitors to your lodge when they try to make a claim on the Travelling Gavel at your next meeting?
---
Friday 20th March 2015
Race Night at Lincoln Masonic Centre in aid of MBF 2018 Festival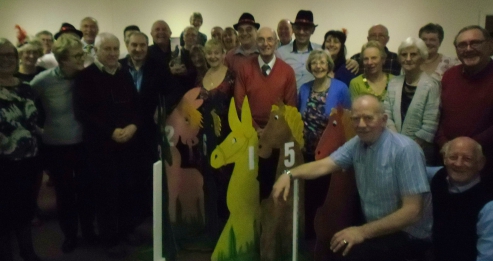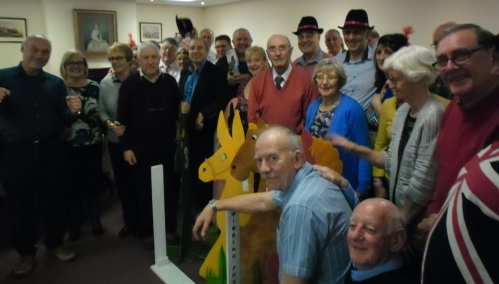 The Race Night was a tremendous success and raised over £1300 for the MBF 2018 Festival.  It was a very convivial evening with lots of fun and an excellent fish and chip supper that was enjoyed by all who were there. There was also a raffle and the sale of a few of our new Festival pens which, together with the proceeds from six races that were held (you can see a couple of the horses in the photos!) which raised  
over £1300 for the MBF 2018 Festival.  
If you have a fun idea to bring the brethren and family together and raise some money for a very worthwhile cause, please speak to your Lodge Festival Champion.
---
Wednesday 18th March 2015
Ladies Half Marathan 
Joy Bontoft celebrated her birthday on the 18th March 2015 (I dare not say publicly, which one!) by completing a half marathon, together with three friends. Walking from Stamford Masonic centre to Bourne Masonic Centre, the 13 and a half miles were completed in under three and a half hours. Total sponsorship realised over £1,000.00!
The pictures show: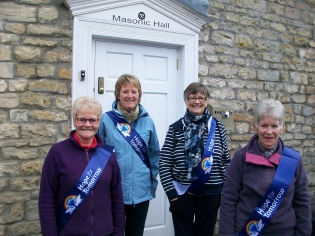 1. The four ladies from left to right... Heather Ayliff, Barbara Brown, Joy Bontoft and Tricia Farmer ....fresh and raring to go from Stamford Masonic Centre.

After passing through the villages of Uffington, Greatford, Braceborough, Wilsthorpe, Obthorpe, Thurlby and Northorpe they arrived at the Masonic Centre in Bourne.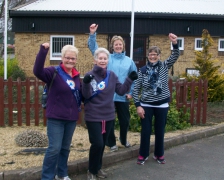 2. the ladies celebrating the completion of the walk.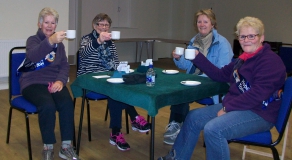 3. Enjoying a welcome and relaxing cup of tea in the centre at Bourne.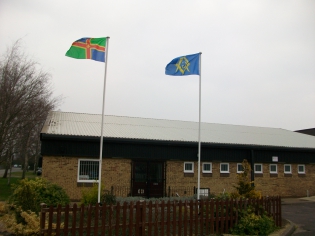 4. The new flags were flying to welcome the ladies back to Bourne after their magnificent efforts.

A splendid effort ladies.....Well done. 
---
Saturday 28th February 2015

The second Champions meeting was held at Sleaford and again a very successful meeting resulted in many ideas being put forward for consideration.
The emphasis was on finding different and entertaining ways of raising funds for the MBF 2018 Festival.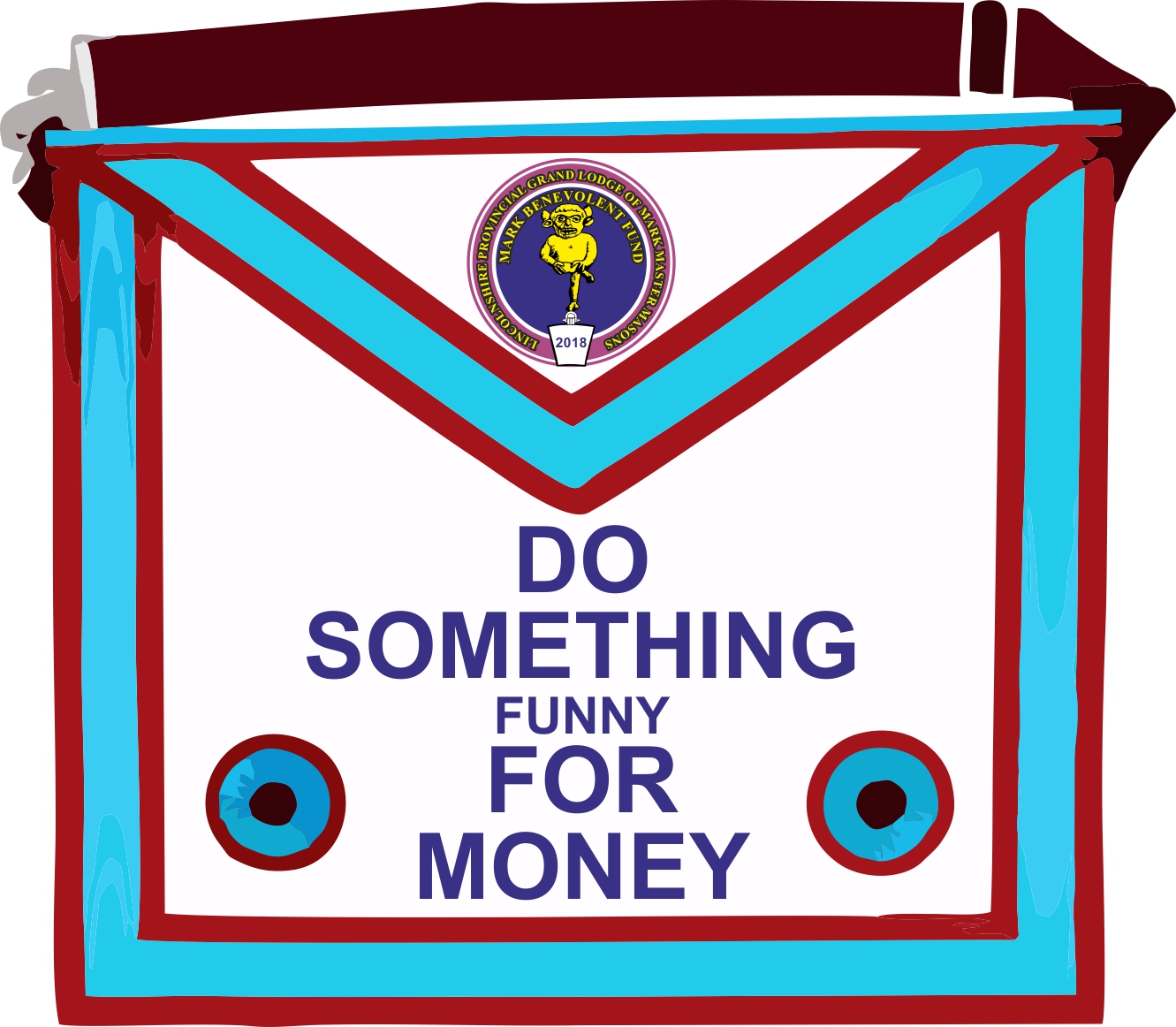 ---
Saturday 21st February 2015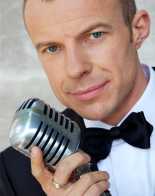 "Fab----U----Lous" , "Am----az----ing", "Spectacular", and "Once in a Lifetime Experience" were just some of the comments after the Gary Williams fundraising evening at the Oaklands Hotel.
 
What a fantastic way to raise money and enjoy a great night out that will be remembered for some time to come.
Gary Williams waived his normal fee and claimed expenses only, and with Barry Flint @ the Oaklands Hotel keeping his costs down, a substantial sum was raised for the good causes the evening was supporting.
 
We Raised a total of £2728  which will be distributed as follows
 
£1000 to The Mark Master Masons MBF Festival 2018
 
£500 to LMCA via Saint James Lodge
 
£500 to LMCA via Earl of Yarborough Lodge
 
£728 to a LOCAL charity to be chosen by Gary Williams
---
Saturday 21st February 2015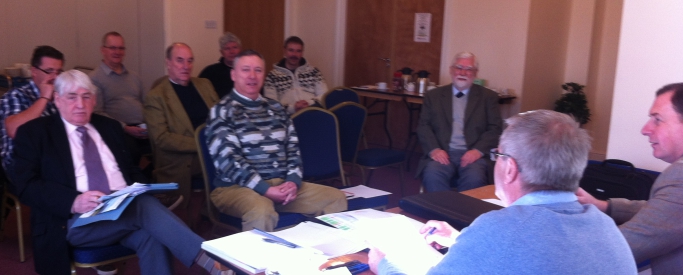 The first meeting with several of the Festival Champions.
It was a successful meeting with many fund raising ideas put forward.
The next meeting is in Sleaford on Saturday the 28th of February for those in the South of the County.  
---
Thursday 5th February 2015
Team Visit to Remigius Lodge of Royal Ark Mariners No. 117
On the 5th February Remigius Lodge of Royal Ark Mariners celebrated 125 years since the Lodge was founded on 20th February 1890.
Fifty two brethren attended the meeting including the Provincial Grand Master, Rt. W. Bro the Rev Trevor Walker accompanied by his Provincial Officers. All the brethren in attendance were presented with a commemorative mug to mark this special ocassion.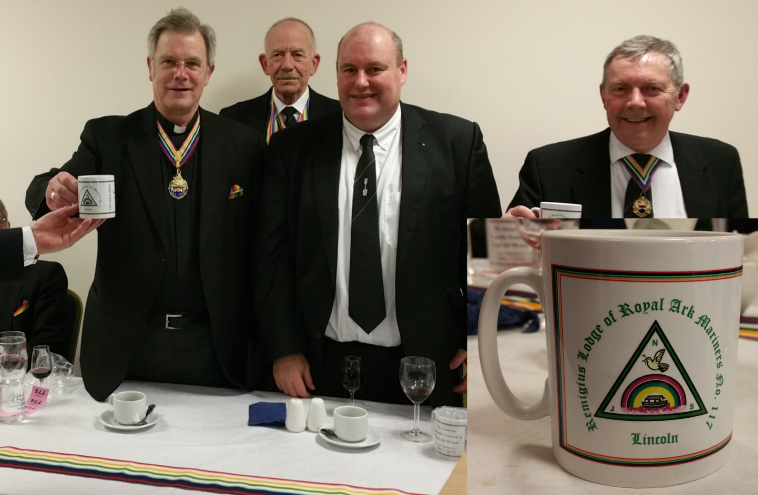 Newly elevated Bro Johnathan Harvey (centre) receives one of the commemorative mugs at the festive board.
The Worshipful Commander, Bruce Goodman gave the following short history of the lodge:
"In 1871 Remigius Lodge No 117 of Mark Master Masons had been formed from members of the Craft Lodge Witham (warrant dated 1793), also that year another Craft Lodge was consecrated  St Hugh. In 1890 these Lodges held meetings at the Masonic Rooms, Mint Street, Lincoln. A petition had been raised by four Brethren from the Remigius Lodge MMM to form a Royal Arc Mariner Lodge and the Warrant bears their names. Bros Henry Edward Cousans who became the first Worshipful Commander, Joseph Arthur Robinson first to be Elevated and became the second Worshipful Commander, Benjamin Hill Russell and Richard Cotton Carline. The Warrant bears the name of the Grand Master of the Grand Lodge of Mark Master Masons HRH Prince of Wales later to become King Edward VII."
A great night was had by all on this last team visit before the Provincial Grand Lodge meeting on Saturday 28th March 2015.
---
Tuesday 13th January 2015
Team Visit to St Oswald's Lodge MMM
The Provincial Grand Master, Rt.W.Bro. Rev. Trevor Walker was accompanied by members of the Provincial Team to attend the Advancement of Bro. Barry Bradshaw at the St Oswald's Lodge MMM on Tuesday 13th January 2015.
An excellent ceremony was enjoyed by all. It was a cold night outside, but picture below shows the the PGM, Rt.W.Bro. Rev. Trevor Walker, the candidate, Bro. Barry Bradshaw, and the Worshipful Master, Bro. Tony Reeves, enjoyng the warmth of the Festive Board.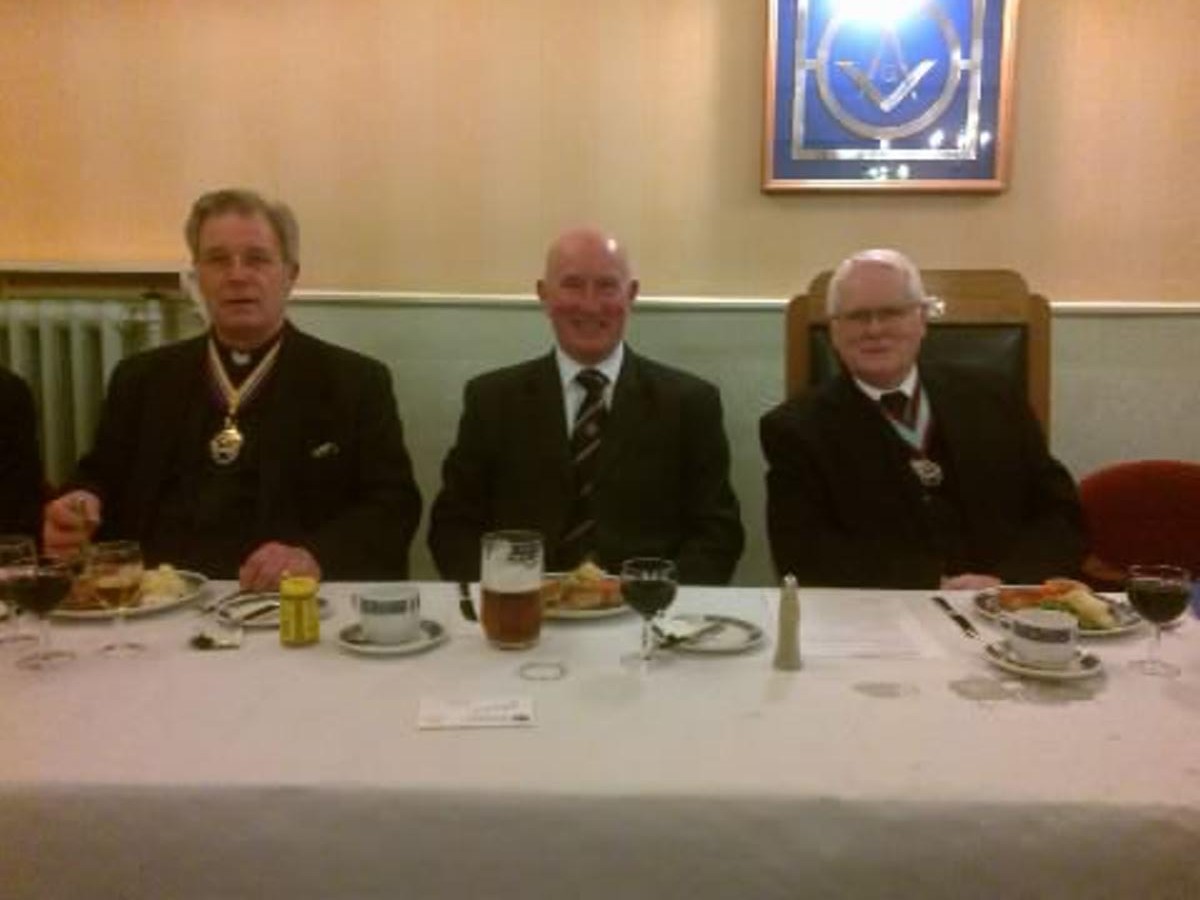 ---